The New Asia: The Most Powerful, Influential and Stylish People to Know in 2020
A new class of innovators and builders will redefine not only how Asia is perceived in the eyes of the world, but also how we see ourselves, by breaking borders, promoting connectivity and rewriting social codes. In these challenging times, their examples of leadership and originality strike a collective note of optimism for a brighter tomorrow. Welcome to the New Asia.
1/93 Nathan Hartono
He's still a fresh-faced crooner at age 28, but this Singapore-based performer and songwriter has actually been performing onstage for half of his life. When Hartono was 14, he impressed his parents (resort consultant Thomas Hartono and Tung Lok Group senior vice president Joycelyn Tjioe) so much with his singing during a karaoke session that they encouraged him to enter a teen magazine talent contest.
Hartono won that prize and just a year later became the youngest performer to headline a show in Esplanade's Late Nite series. That gig, at the national performing arts centre's Recital Studio, "was my first proper ticketed show and I remember being extremely nervous that we wouldn't sell any tickets," he says. Hartono has gone on to record three jazz-inflected English albums, an EP and several singles. He's also an actor, most notably playing the lead in a 2012 staging of the musical Spring Awakening. In 2016, Hartono vaulted into the regional spotlight as a contestant in the popular Chinese TV singing competition Sing! China. He became the first Singaporean finalist and ended the season as the runner-up. Since then, he started his own company so that he could retain creative control over his music, released a debut Mandarin EP in 2018 and two Mandarin singles in 2019, and is currently working on more releases in both Mandarin and English. Hartono says the New Asia is about possibility: "It is a new generation of unapologetic, fearless Asians taking over their respective industries, especially ones that weren't previously 'Asian-friendly,' like arts and entertainment."
2/93 Wee Teng Wen
From rooftop bars to contemporary members' clubs, many of the hotels and restaurants beloved by Singapore's well-heeled urbanites were first dreamed up by Wee Teng Wen's Lo & Behold Group. The co-founder and managing partner of this hospitality company runs a stable of award-winning establishments, including chef Julien Royer's Odette, currently number one on Asia's 50 Best Restaurants List; The Warehouse Hotel; and members' club Straits Clan.
"Over the last decade, I'm happy to have created and nurtured 14 vastly different concepts, all backed by a team of passionate hospitality professionals hellbent on making Singapore a little more fun and lovable," says Wee. Lo & Behold also recently joined the new F&B Sustainability Council, which aims to support local food and beverage establishments in becoming more sustainable. Says Wee: "The New Asia is culturally confident and socially responsible. We are blessed to be here in Singapore, in the right place at the right time." Wee likes to maintain a low profile in the press, and he answers one personal question with typical humility: asked to name his claim to fame, he responds, "Marrying my wife, the artist Dawn Ng."
3/93 Lynn Ban
Lizzo is the pop world's diva of the moment, having kicked off 2020 with her first Rolling Stone cover. On the newly anointed star's fingers: rings by Singapore's Lynn Ban. The jewellery designer's edgy creations have been part of several iconic moments in recent pop culture history, including adorning Beyoncé's wrists in the groundbreaking 2016 Formation music video. But perhaps the pop star most associated with Ban is Rihanna, who has called the designer her fairy godmother.
Ban moved to New York with her family as a child, subsequently spent time in Hong Kong, Singapore and Paris, and has been based in New York since the 1990s. Before launching her eponymous jewellery line in 2011, she ran a vintage fashion business. Her network from the latter gave her a boost when she moved into jewellery, and these days her pieces can be found in upscale boutiques in the US, Australia, Russia, and, of course, Singapore. "I'm proud to be a part of this creative, impactful and powerful New Asia whose myriad achievements are being recognised on an international scale," she says.
4/93 Rachel Lim
Running a startup can be intense, and one that operates in the much-disrupted sector of fashion retail is pretty much an exercise in constantly staying on your toes. Little wonder that Lim, the co-founder of the digital native apparel brand Love, Bonito confides: "My guilty pleasure is being alone on a flight, when I'm forced to shut out the world and be alone with my thoughts."
Started in 2006 as a blogshop in Singapore when Lim was still a student, Love, Bonito has since expanded with brick-and-mortar stores and ventured into overseas markets. The latest is Hong Kong, and more new adventures await. "I believe the future of Asia and Asian brands is bright," says Lim. "It's exciting to be growing and learning at the frontier of the newest and latest when it comes to retail, e-commerce and other growth opportunities in the region. As we deepen our footprint in the New Asia, curating the right experiences and offerings for different markets will be key for us."
5/93 Nadya Hutagalung
Hutagalung shot to fame as a VJ for MTV Asia in the 1990s, but these days the Indonesian-Australian dedicates her energy to another calling: environmental advocacy. In 2014, she co-founded the campaign Let Elephants Be Elephants, to reduce demand for ivory in Asia. In 2015, she was appointed an ambassador for the United Nations' Great Apes Survival Partnership (GRASP), working to ensure the long-term survival of gorillas, chimpanzees, bonobos and orangutans in Africa and Asia.
She addressed the United Nations General Assembly in New York that same year—a moment she counts as her first big professional achievement. As a UN Goodwill Ambassador, she continues to raise awareness for causes such as eliminating marine litter. In her personal life, the mother of three and wife of Olympic swimmer-turned-banker Desmond Koh tries to support local brands and focus on sustainable purchases. "The New Asia understands its power and responsibility to create positive impact," she believes. "As the fastest-growing region, we need to redefine the benchmarks of success and realise that contentment does not come from material objects."
6/93 Talenia Phua Gajardo
After beginning her career at Zaha Hadid Architects in London, this Singaporean-Chilean returned to Asia in 2013 and turned to entrepreneurship inspired by her passion for art and design. She founded online art platform and advisory The Artling to showcase the work of Asian artists, and Luxglove, a curated shopping portal for the resale of luxury items such as vintage cars and watches.
In 2019, she launched The Artling China, an appointment-only showroom in Shanghai's trendy Jing'an district where guests can view contemporary Asian art and design in person. Known for sticking to a classic wardrobe in eternally on-trend black, Phua Gajardo cuts an elegant figure at art fairs and exhibition openings. When she's not sussing out the art scene, though, you can find her in the embrace of nature. "Jungle hikes are my favourite thing to do in my spare time," she reveals. For this art lover, the New Asia has a distinctly humanist definition: "To me, it's about more meaningful, lasting and purposeful relationships." And for aspiring entrepreneurs, she has these words of wisdom: "Persistence and attitude are key."
7/93 Chatri Sityodtong
The founder, chairman and CEO of mixed martial arts sports league One Championship started learning muay thai when he was 13, then taught it to classmates while studying at Harvard Business School, and eventually turned his love for martial arts into a business that has become Asia's MMA juggernaut. In 2019, One Championship announced the launch of its e-sports series, and its milestone 100th live event drew a record-breaking 85 million viewers worldwide—a number Chatri characteristically describes as one that "barely scratched the surface of the full viewership potential in Asia."
While this Thai-Japanese entrepreneur's drive and ambition are always apparent, Chatri has a softer side too. He says he can cook "a mean plate of fried rice," always orders dessert (chocolate cake is his guilty pleasure) and counts a street-food stall in Bangkok's Soi 26 as his favourite restaurant in the world. "Dare to live your dreams," says Chatri. "To me, the New Asia means no limits, no boundaries, no impossibilities."
See also: Chatri Sityodtong On Boxing Clever
8/93 Julien Royer
This chef-restaurateur grew up on a farm in France's Auvergne region, and both his parents are well-versed in the art and science of helping things grow. "I come from a humble background, but we always ate very well, and that's what ultimately made me who I am today," he says. Family is clearly close to his heart—Odette, the much-lauded restaurant he runs at the National Gallery Singapore, is named after his maternal grandmother, while his new Hong Kong bistro Louise pays tribute to his paternal grandmother.
Royer joined the food industry at age 16, and since arriving in Singapore in 2008 has earned numerous accolades. In 2019, Odette bagged the top spot on the Asia's 50 Best Restaurants list and received three Michelin stars. "I have been very lucky to be able to write my own story in this restaurant," he says. Business partner Wee Teng Wen of The Lo & Behold Group "gave me a lot of freedom, so we could build the menu and atmosphere step by step. In fact, he believes that "in a city like Paris, I don't think anybody would have bet on such a young chef. The energy in Asia is unique. What I like about being here is that there is space and encouragement for everyone who wants to create something. It's not about who you are, it's about what you do."
9/93 Wong Mun Summ & Richard Hassell
The founding directors of architecture firm Woha put sustainability at the centre of their practice when they founded their company in 1994, and this forward-thinking ethos has found a deeper resonance in this age of escalating climate crises. At the forthcoming sustainability-focused Expo 2020 Dubai in October, Woha will unveil its design for the Singapore pavilion (look out for a net-zero energy rainforest). The firm also designed the masterplan for Singapore's Punggol Digital District, a tech-centric development slated to open from 2023.
Judging by their conceptions of the New Asia, Wong and Hassell are still pushing at the boundaries of convention and coming at the world in unexpected ways. "To me, it means being future-positive, open-minded and willing to try new things; embracing change but being rooted in tradition at the same time," says Wong. For his part, Hassell, who is also an artist, brings up the growing influence of distinctively Asian urban cultures on other parts of the world. "One example of that culture would be cosplay, which adds a colourful layer to people's lives and is something they can put on and take off."
10/93 Adrian Cheng
"When I think about what the New Asia means to me, I think about the power of creativity, culture, innovation and sustainability," says Adrian Cheng, heir to the Chow Tai Fook and New World Group empires and Founder of K11. "Adding to this, the word 'community' is going to be interesting in the future, because until now, we talked about Asia as individual countries. We talked about Thailand or Singapore or Indonesia, but now we are beginning to think of Asia as one community where everyone, young innovators and the older generation alike, comes together to exchange ideas and create new initiatives together. That collective force should be a part of the New Asia, too."
11/93 Chryseis Tan
Chryseis Tan describes the New Asia as "bold, innovative and an even playing field where anyone can achieve success," though she has often expressed bafflement at her own popularity. The soft-spoken heiress to Malaysia's Berjaya Corporation's fortune gives her followers a glimpse of her jet-setting lifestyle, while her marriage to another heir to a Malaysian business legacy, SM Faliq Nasimuddin of Naza Group, certainly adds to the allure.
But, like her tycoon father Tan Sri Vincent Tan, she has demonstrated a keen business acumen behind her luxe image, having played a key role in developing the group's Four Seasons Kyoto and other properties. Tan's investments in startups like Goxip, the Hong Kong-based 'shoppable Instagram' for fashion and beauty products, and the La Juiceria Group have also flourished. She's the force behind Kuala Lumpur hotspots including Greyhound Café in Bukit Bintang, and Sushi Ryu and Bar Shake in Platinum Park. Her one piece of business advice is this: "Do not ever give up and take fear out of the equation."
12/93 Wanwan Lei
The founder of the M Woods contemporary art museum in Beijing has brought glamour to China's red hot collectors' market, with exhibitions featuring the work of Andy Warhol, David Hockney and Paul McCarthy.
13/93 Tirawan Taechaubol
Hotel group heiress Tirawan, or Waew, is the project development manager at family-owned Kasemkij Group in Thailand, with responsibility for land acquisition, marketing and business operations. In the vanguard of a new breed of Asian entrepreneurs, her latest venture under the group's Cape & Kantary Hotels is Cape Fahn, a stylish resort on a private island off Koh Samui.
The Chulalongkorn University graduate, who holds a master's in management from Imperial College London, also runs the noodle chain Nuer Koo with her cousin. Recipient of the Outstanding ASEAN Women Entrepreneurs 2019 award, the art-loving fashionista is married to real estate exec Ben Taechaubol, with whom she has a son.
14/93 Rosey Chan
The London-born multimedia artist and musician is known for combining art and performance with her works at art fairs such as Frieze London, commissions for gallery shows on Guy Bourdin and Marina Abramović, and even once having performed a spontaneous one-handed improvisation for Quincy Jones.
"Once in a while when I have a drink too many, I may be persuaded to play the piano upside down," she says.
15/93 Wendy Yu
Born in Zhejiang, Yu became interested in business at an early age—her father, Jingyuan Yu, is founder of the Mengtian Group, the largest wooden door manufacturer in Asia. Based in Shanghai, she is the founder and CEO of Yu Holdings, which invests in lifestyle and technology companies with a millennial focus, and is fast becoming a major patron of fashion at museums around the world.
Her endowment of the lead curatorial position at the Metropolitan Museum of Art's Costume Institute in New York City has positioned her as a lifetime power player thanks to the industry's obsession with the Met Gala. "Though youthful in spirit, I'm actually an old soul and naturally intuitive," she says. "I'm somewhat of a paradox in that I'm masculine in my approach, especially in business, but at the same time I am also very much in touch with my softer, girly side." As for her taste in fashion, "I don't like to have regrets," she says. "Personal style is a journey with many chapters and it evolves with time."
16/93 Arnold Putra
Arnold Putra describes himself as a fashion designer, but he's fast becoming far more than that. His Instagram account is packed with photos from different locations of him wearing eccentric outfits that reflect his edgy and provocative personality. In one post from Ethiopia, he wears a white outfit and a massive cross, surrounded by orthodox priests and pilgrims during the Meskel Festival, which celebrates the discovery of the True Cross (the remnants of the actual cross on which Christ was crucified).
In another post, he appears with sadhus, or religious ascetics, in India during a holy event in the river Ganges. There's also a post in which he hangs out with Grab drivers wearing a Grab jacket, possibly borrowed from one of the drivers, and worn in contrast to a pair of Balenciaga boots. "Although fashion design has been one of my more notable media," he says, "I think that the things I have been creatively working on recently fall more into costume, film, music and the curation of spaces." Asked whether his travel around the world has influenced his creative output, Arnold answers: "Maybe it has, subconsciously, but I would say that it's the other way round. Travelling is the output of months of research, pitching to journalists, Google translating my way around forums, and finding the links to significant figures of a subculture and counterculture." As for his underlying business belief, Arnold responds in typical form: "If a man does not have 'sauce,' then he is lost, but the same man can get lost in the sauce."
17/93 André Fu
Ever since he shot to international fame a decade ago with his innovative designs for The Upper House, Fu has left an indelible mark on the hotels and restaurants not only of his home city of Hong Kong (the St. Regis, K11 Artus and Louise opened in the past year), but also with major properties around the world from Singapore to New York City to London and more.
He also designs an ever-growing range of products for the home through his André Fu Living collections and collaborations. Fu's biggest piece of business advice is simple and to the point: "Stay persistent," he says. In fact, his favourite thing to do even in his spare time is to go back to his studio and work. But Fu does admit to a few weaknesses when it comes to comfort food—Pringles potato chips and his favourite dish, "pasta Bolognese."
18/93 Vatanika Patamasingh Na Ayudhya
Vatanika's eponymous fashion label enjoys a huge following, with an Instagram account that has racked up close to a million followers. Last year, the ambitious entrepreneur launched a timepiece collaboration with Swiss watchmaker Franck Muller.
The daughter of former society model Pintipa and a graduate of Central Saint Martins and the London College of Fashion, she is also famed for her extravagant reality show This is Me Vatanika, which has attracted nearly 300,000 subscribers to her YouTube channel. She was Thailand's representative in Asia's Most Stylish Women 2017.
See also: Vatanika, A Woman Ahead Of Her Time
19/93 Madsaki
Madsaki was born in Japan and moved to New Jersey as a young child, an experience that has shaped paintings that fuse graffiti and manga, with references to Hollywood films and old-master artworks, too. The 46-year-old artist has been championed by Takashi Murakami and international dealer Emmanuel Perrotin.
20/93 Federico Tan & Kevin Poon
In the mid '90s, Federico "Fed" Tan began assisting his then-fashion photographer brother on shoots for magazines like i-D and Harper's Bazaar, sparking a love for fashion that would lead him to forge his own path, working with brands like Diesel and Shanghai Tang. In 2012, he teamed up with Kevin Poon on Social/Capital, a Hong Kong-based events, marketing and communications company that has taken on clients such as Sacai, Maison Martin Margiela and J. Crew.
Poon has led and transformed the streetwear scene of Hong Kong (and Asia and beyond). His wildly popular label Clot, co-founded with Edison Chen, made its fashion week debut in New York in 2018, and their multi-brand retail outlet Juice has locations in five major cities. When he's not working out of his decked-out Wong Chuk Hang office, you'll find Kevin running in the same circles as Kanye West, Pharrell Williams and Kaws.
21/93 Kent Ho & Emily Lam-Ho
Kent Ho and Emily Lam-Ho are one of Hong Kong's most glamorous power couples. Having spent a decade in Silicon Valley before settling in Hong Kong in 2012, Kent has made it his mission is to "tie the two together." The Kentucky-born, Stanford-educated entrepreneur is the founder of early-stage venture capital fund Spectrum 28, which invests in experimental and pioneering tech companies—to date, its portfolio spans digital health, genomics, retail and hospitality, fintech, construction and even drones. In 2018, he was named a Young Global Leader by the World Economic Forum.
Armed with a double master's from Columbia and a double degree from the University of Southern California, Emily once worked on the trading floor of the capital markets firm CLSA. Today, she's using her business savvy to empower women as CEO and founder of Empact28. Emily works with the Women's Commission to advise the Hong Kong government on special projects and is on the Women's Leadership Board of Harvard University's Kennedy School. She is also the co-founder and CEO of Hong Kong-based NGO EcoDrive, which works to reduce the city's use of plastic—you'll find plenty of tips on living sustainably on her social media.
22/93 Veronica Chou
Having introduced more than a dozen American brands to China (with 1,000-plus stores), and invested in many aspiring green brands, Chou, a daughter of billionaire fashion tycoon Silas Chou, launched her own eco-friendly collection, Everybody & Everyone, last year. And she's just getting started. "I hope to make my impact using material science and sustainability," says Chou.
23/93 Dipsy
One of Asia's best-known KOLs, the former graphic designer shot to fame after he was selected to appear in a Valentine's Day promotional video for Chanel in 2018. Recognisable for his unique style and engaging imagery, he attributes his success to being a perfectionist, though he would never claim to being perfect when it comes to his own style. "Everyone must have a made a mistake," he says. "Someone who says no must be a big liar."
24/93 Mark Cho & Alan See
The dapper duo of Cho and See founded The Armoury, Hong Kong's leading menswear store and tailor, in 2010—and they've been shaping men's fashion in the city and abroad ever since. The Armoury now has two stores in Hong Kong and one in New York, each of which offers bespoke tailoring as well as off-the-rack clothing, footwear and accessories by the store's own label and brands such as Drake's, Foster & Son and Yohei Fukuda.
25/93 Anne Curtis Smith-Heussaff
An actress, entrepreneur and Unicef goodwill ambassador, Smith-Heussaff is one of the most in-demand talents in Philippine show business. Not one to play it safe, she exercises her acting chops by taking on unorthodox roles in almost every genre, from romantic comedies to elevated horror films. She likewise adopts a gutsy way of thinking when she drums up ideas for her beauty and fragrance brand, BLK cosmetics, through which she showcases conceptual collections.
"For the longest time, people have been talking about how Asia was the next big thing in business, but we never quite saw that trickle down to the film industry until now," she says. "It's so heart-warming to see more Asian films and series being acquired on streaming platforms, Asian actors making debuts in international films and recognition from international film festivals."
26/93 Tina Keng
Tina Keng, founder of the Tina Keng Gallery, has become one of the most influential gallerists in Taiwan and Asia more broadly over the past 30 years. She helped introduce Zao Wou-ki's work to Taiwanese collectors and curated the first Sanyu solo exhibition in Taiwan in the early '90s and six others since.
"In terms of the art industry, Asia is a relatively new and emerging player," she says. "There are many sophisticated senior collectors, and young people support contemporary art with an open mind, so these are very important trends we can look for in the future." Her advice for working in the art world: "You must have perseverance, persistence, enthusiasm and a bit of stupidity."
27/93 Pranapda Phornprapha
The daughter of business magnates Phornthep and Mayuree, Phornprapha is director of the family-owned Siam Motors group and runs the family's Yamaha Music School. Through her company Paroshoot she is also the local distributor of fashion brands Christian Louboutin, Missoni, Berluti and Havaianas.
"Fashion is supposed to be fun," she says. "So I have no regrets. Always follow your gut." The Brown University graduate also strives to reinforce and foster a better understanding of women's rights and gender equality through her Dragonfly 360 Summit. The event saw local and international celebrities, business leaders and numerous inspiring individuals gather to shed light on issues affecting women.
28/93 Piyarat Kaljareuk
Better known as Tae Kantana, Piyarat Kaljareuk comes from a long line of entertainment industry luminaries and as a third-generation heir to the Kantana entertainment empire, he spearheads hit shows such as The Face Thailand and Drag Race Thailand among other international franchises.
He is a proud advocate for the LGBTQ community and also speaks out on the topics of bullying and depression. The Chulalongkorn University graduate in western music is known for his glamourous looks, but don't ask him to name his fashion regrets. "So many!" he says.
29/93 Nualphan Lamsam
President and CEO of Muang Thai Insurance, Nualphan Lamsam comes from a family steeped in the financial sector with interests in Kasikorn Bank and several notable insurance companies. The Boston University MBM graduate began her career as one of the country's early importers of designer labels and she still owns Hermès distributor Saint Honoré. Nualphan is also breaking ground in the male-dominated world of sports, particularly football.
The former manager of Thailand's Paralympic athletes, she is currently chairwoman of Thai premier league Port Football Club and a manager of Thailand's national women's football team, which she helped lead to the 2019 Women's World Cup Finals in France.
30/93 Lulu Wang
Chinese-American director Lulu Wang released her first feature film, Posthumous, in 2014, but it was last year's The Farewell that pushed her into the spotlight. The movie, which stars Awkwafina as a young Chinese-American woman who travels from her home in New York to China to visit her ageing grandmother, was critically acclaimed for its exploration of the immigrant experience, cultural differences and family dynamics.
31/93 Takayuki Ishii
For more than 25 years gallerist Takayuki Ishii, also known as Taka, has been promoting the best of Japanese photography around the world and bringing leading international art to his two galleries in Japan. He represents legendary photographers Daido Moriyama and Nobuyoshi Araki, as well as Scandinavian stars Elmgreen & Dragset and American artist Sterling Ruby, among many others.
32/93 Thierry Chow, Marisa Yiu and Betty Ng
As a modern feng shui master, Chow knows a thing or two about getting lucky. Using the skills she learned from her father (revered feng shui master Chow Hon Ming), she crafts a uniquely contemporary approach to this ancient art to bring balance, harmony and better flow of energy to people's lives through fashion and interiors. In 2018 she published Love and Fate—a feng shui guide to love and relationships—and in late 2019, she made her foray into homeware with her brand Thierry Go Lucky.
Yiu's life is led by design. As the founding partner of award-winning multi-disciplinary architecture studio, Eskyiu, and the co-founder of Design Trust, a charity that supports creative projects in Hong Kong and the Pearl River Delta, she advocates for the positive impact of art and design on society. Marisa's unconventional approach has left its mark—from an urban forest installation to an interactive exhibition that brings communities together through play and, most recently, the interiors of K11 Atelier King's Road, a 28-storey tower that houses offices, retail spaces and an art gallery.

Design is a way of life for Ng, who founded architecture studio Collective in 2015. Since then, she has brought a stream of rich and thoughtful design concepts to Hong Kong, Madrid and New York City. Prior to this, Betty worked as the design director of the Rotterdam office at Rem Koolhaas' OMA, where she led the winning proposals for the Hermitage Museum Art Repository in St Petersburg and the West Kowloon Cultural District Master Plan in Hong Kong, to name a few. Fun fact: Tatler tapped Betty to design its new Hong Kong office, which opened in late 2019.
33/93 Bryan Loo
Founder of the bubble-tea brand Tealive, Loo's ambition is to create an empire by expanding to 15 countries by next year and eventually to build the largest food and beverage business in Malaysia. This seems right in step with the quote he lives by, as Loo told Generation T last year: "Think big, start small and scale it fast. I've been practising that motto since day one and it becomes more and more true as my career progresses. I now know that if I ever started a new brand, I would start with a big vision, as it is so important to know exactly where you are, and once I hit a certain threshold, scale it fast."
34/93 Nirvana, Rahul and Varun Chaudhary
Nirvana, Varun and Rahul are the three sons of Binod Chaudhary, Nepal's richest man and only billionaire, who owns hotels, factories producing everything from cement to noodles (The Chaudhary Group produces billions of noodle packets annually), and industrial parks throughout Asia and Africa. All three are senior executives at CG Corp.
Nirvana, the eldest, is managing director and has pushed the company toward broader investments in telecommunications and hydropower. Rahul also holds the title of managing director and Varun, the youngest, is executive director.
Related: Nepal's Only Billionaire Binod Chaudhary Opens His First Luxury Hotel In Dubai

35/93 Eric Gnock Fah
It's been nearly six years since Eric Gnock Fah co-founded Klook, the travel experiences booking platform that has grown at such an explosive rate it's already reached unicorn status—a startup valued at more than US$1 billion—with more than two dozen offices and 2,000 employees scattered around the globe. Since its inception, doing good has been part of Klook's corporate philosophy.
"Our mission is about bringing the world closer together, making it easier for everyone to travel and discover local experiences," says Gnock Fah. This year, he aims to build an impact tourism division to create positive changes in destinations worldwide. "One idea we're working on is to work with elephant-riding operators in Thailand to change them into elephant sanctuaries," he says. "We've spoken to a few and they're very keen. What they're afraid of is if they change their business model, will they have customers right away?" Gnock Fah believes they will do it for the 'gram—or rather, that the lure of social media tourism can drive real-life traffic with the right combination of socially conscious messaging and marketing. "Right now Instagram looks good—but I think we can definitely do good, and I think that's going to be the next trend in the travel industry," he says.
36/93 Yoon Ahn
Lady Gaga, Rihanna and G-Dragon are just a few of the many famous fans of Ambush, the Japanese jewellery and streetwear brand established and led by Korea-born Yoon Ahn and her husband, who goes by the name Verbal. In 2018, another admirer, fashion designer Kim Jones, persuaded Ahn to take on a second role: jewellery designer for Dior Men. Ahn now juggles both jobs, jetting back and forth between Paris and Tokyo.
37/93 René Chu
Hong Kong-based designer René Chu launched her eyewear label Revé by René in 2013 to almost overnight success. "We landed [cult Parisian boutique] Colette as our first stockist four months after our launch," recalls Chu. Seven years on, her designs are now sold around the world, including at the Museum of Contemporary Art in Los Angeles and the buzzy Boon the Shop in Seoul, and worn by celebrities including Siwon Choi, Fan Bingbing and Beyoncé.
38/93 Vasu Virajsilp
Multi-award-winning principal architect and managing director of VaSLab Architecture, Vasu Virajsilp's designs are influenced by abstract art movements from cubism to surrealism, and his works have included private homes, hotels and resorts, as well as the Honda Big Wing showroom in Bangkok and the internationally recognised Casa de la Flora boutique resort at Khao Lak in Thailand's southern Phang Nga Province.
Though his buildings are undoubtedly forward-looking, his passions sometimes look to the past, including his favourite spare-time pursuit—"playing vinyl records."
39/93 Frank Chou
Furniture designer Frank Chou is an emerging star in China's design scene. Characterised by a combination of metal, wood and fabric, his geometric designs are created for work and home. He has been the recipient of the EDIDA Award for Young Design Talent of the Year, the Gold Idea Award at the China International Furniture Expo, SaloneSatellite Special Mention Design Award and more.
40/93 Siddharth Kasliwal
The scion of India's legendary jeweller Munnu The Gem Palace (and ninth-generation artisan) has carried the family legacy forward with a renewed emphasis on the storytelling behind its intricate handmade designs, which have adorned maharajas, maharanis and lots of socialites, too, for centuries.
While his late father Munnu is credited with building Gem Palace into an internationally recognised brand, Sid, as he is known, has added a modern flair with contemporary settings and exotic store designs (and even a bejewelled bottle of Chivas), working from his scarlet-hued atelier in New York City.
41/93 Datin Sri Lara Hussein
Malaysians know her for two things: being the grand-daughter of Malaysia's founding father and first prime minister Tunku Abdul Rahman, and being the founder and CEO of advertising agency M&C Saatchi Malaysia, which has been around for more than two decades. Under her leadership, the agency has won the contracts of big corporations such as Axiata Group, CIMB and Malaysia Airlines. Aside from her success in advertising, Hussein is also an equestrian who still competes and sits on the board of her late grandfather's foundation. Her motto: "Be brave, stay hungry, keep inspiring your team."
42/93 Teo Yang
South Korean interior designer Teo Yang opened his Seoul studio in 2009 and built a reputation for translating the traditions and aesthetics of his Korean heritage into a more contemporary style, with commissions for the presidential residence as well as skincare boutique EATH Library, where centuries-old medicines inspire modern skincare products. This contrast speaks to his definition of the New Asia: "The space and time to showcase the balance between past and future, global and local."
43/93 Vicky Lau
For Lau, the head chef and founder of Tate Dining Room, the plate is her canvas and produce is her paint. Her past life as a graphic designer comes through in her exquisitely presented dishes and in Tate Dining Room's beautiful interior design (it really is the stuff of Pinterest dreams).
When she's not busy crafting Michelin-starred cuisine, Lau enjoys spending quality time with her daughter and indulging in snacks in bed (seaweed rice crackers are her guilty pleasure) and sweet-and-sour pork, too. Hey, it's the simple things.
44/93 Anthony Chen
This Singaporean film director is the first person to describe himself as "very, very Aries, 100 per cent." Well, Chen has acknowledged in the past that he has a reputation for being intense and demanding, but look at what he has achieved. In 2013, his debut feature film Ilo Ilo, about the bond between a boy and a domestic helper, became the first Singapore film to win the prestigious Camera d'Or prize at the Cannes Film Festival.
The same year, it bagged Best Film at the 50th Golden Horse Awards, and Chen himself won Best New Director and Best Original Screenplay. His second feature, Wet Season, was released in 2019, a story of a relationship between a teacher and her student that also scored accolades on the film festival circuit. Now based between London and Singapore, Chen has already started thinking about making his third film the concluding chapter of an unintended Growing Up trilogy. For aspiring filmmakers, he advises: "You are the best judge of your own work."
45/93 Christopher Mark & Syed Asim Hussain
Black Sheep Restaurants' co-founders Christopher Mark and Syed Asim Hussain own and operate 24 restaurants in Hong Kong that are some of the most transportive and international dining experiences in the region. Their properties include the Michelin-starred New Punjab Club and Parisian-inspired Belon, as well as Tuscan trattoria Associazione Chianti and Peak-top dining destination Rajasthan Rifles. Straight out of college, Hong Kong-born Hussain first worked in finance in New York: "It was just as the subprime mortgage crisis hit so my first big professional achievement was staying employed," he says. "I said to myself that I was not going to be fired from my first job, and while I was not the smartest in the room, I was in first and out last and no task was too small for me. I learned the value of doing simple things well and that has served me ever since."
But he eventually returned home to start an apprenticeship in the restaurant business. His father had been a restaurateur in Hong Kong in the 1980s and his son's first job was as a dishwasher in his now-legendary Indian restaurant, the Mughal Room. Food was also central to Mark's upbringing. Born in Canada to Chinese and Italian parents, he grew up in a neighbourhood full of immigrants. "From a very early age I was exposed to tons of foods," Mark says. "They always fascinated me." Before Black Sheep, he was the executive chef at Dining Concepts. In 2019, the New Punjab Club became the world's first Punjabi restaurant to receive a Michelin star. Mark and Hussain also created and operate a proprietary delivery app, Go, and recently launched Uncle Desi Food & Sons—its first delivery-only digital restaurant, overseen by Chef Palash Mitra, Black Sheep's Michelin-starred culinary director of South Asian cuisine.
46/93 Daisy Tam
While studying to get her PhD at Goldsmiths College in London, Daisy worked part-time at Borough Market, where she chanced upon a community of farmers and bakers who exchanged bread for leftover produce. This inspired her dissertation, and ultimately her foray into tackling Hong Kong's overwhelming level of food waste through her website, Hong Kong Foodworks.
Her crowd-sourcing app, Breadline, works with 300 bakeries and facilitates the donation of more than 1,000 loaves of bread each week to families in need. "We've always associated hunger with developing countries," Daisy says. "Now we're talking about food security in very rich, cosmopolitan cities."
47/93 Zola Zhang
Among China's leading fashion bloggers, Zola Zhang certainly remains ahead of the pack with hundreds of clients and a crew of 30. Her Instagram account features selfies with Giorgio Armani, Karlie Kloss and Lady Gaga, so there.
48/93 Guo Pei
As the first Asian guest designer of the Fédération de la Haute Couture et de la Mode in Paris, Guo Pei has represented China at the highest levels of fashion for more than 20 years. She became a household name (and her designs inspired a meme) after Rihanna wore her dazzlingly copious yellow gown on the Met Gala red carpet in 2015 for the opening of the exhibition China Through the Looking Glass. Her magnificently theatrical collections have been inspired by fairytales, legends and even military history.
49/93 Elyn Pow
Coming from a family with a history of diabetes, Elyn Pow always struggled to keep her blood sugar low despite leading an active lifestyle. It was only when this restaurateur changed her diet and eating habits that she began to see results.
Her experimentation with chia seed pudding formulations inspired Rawsome, an F&B business that specialises in wellness and fitness. Now open in seven locations in the Klang Valley, with more to come, Rawsome boasts a menu of 30 pudding varieties, cold-pressed juices plus salads, quinoa wraps and Buddha bowls.
50/93 Darren Wang
Wang, the founder and CEO of OwlTing, specialises in cryptography and is one of the world's leading experts in the field of blockchain record-keeping technology, which allows multiple users to work in real time on a shared network and has practical applications in healthcare, hotel management, food traceability systems, cryptocurrencies and anti-counterfeiting systems.
"The reason I moved back from Silicon Valley to Asia is because I saw the fastest development in Asia," Wang says. "Lots of opportunities and new technologies from Asia gave me the chance to build more business in different countries—there are new technology companies rising in Japan, Taiwan, Korea and ASEAN countries, and blockchain played an important role in this trend."
51/93 Yu Hong
Yu Hong blurs fantasy and reality in her bold paintings, which are executed in a socialist realist style and explore the seismic social and cultural changes sweeping China. These monumental works—some of Yu's canvasses are more than five metres long—have been applauded by critics and curators alike and featured in exhibitions around the world, including at the Guggenheim in New York and the Venice Biennale.
52/93 Marion Caunter
This is a big year for Marion Caunter, a renowned personality who dominated urban television in the noughties through her work on popular mainstream channels such as E! News Asia, ESPN and Channel V Asia. In November, she turns 40 years old—a milestone she both looks forward to and is nervous about. She'll also celebrate her 10th wedding anniversary to businessman SM Nasarudin of Naza Group, and nine years of motherhood with her children Leia Rose, Lana Rose and Liam Naza.
Caunter started her career hosting a television variety show, The 8TV Quickie, before foraying into radio, regional TV and E! News Asia. Despite her step back from the media industry to focus on her children, she remains active in the social scene and retains her deep passion for fashion. "It is definitely an exciting time to be in Asia," she says. "From a fashion point of view, I know so many people who are excited about collaborating with Asia in whatever capacity possible. I can see with my own eyes how Asia is taking up so much more space, from the celebrities and influencers who are chosen to collaborate with major brands to the models who walk the major runways to the clients who are attending the shows. It's a huge time for Asia and I hope that Asians everywhere continue to take the utmost pride in their own values and culture, because we have so much more to offer the world."
53/93 Cindy Chao
When Cindy Chao decided to follow her dreams to become a jewellery designer, she was a single mother working from home with just a few hundred dollars in her bank account. Now she's one of the world's most celebrated jewellers, has plush showrooms in Hong Kong and Taipei, and exhibits her one-of-a-kind pieces at museums around the world, including Beijing's Today Art Museum, Tokyo's Mori Art Museum and Washington DC's Smithsonian National Museum of Natural History.
Related: Thailand Tatler Takes Fives With Jewellery Artist Cindy Chao
54/93 Steven Pan
Pan is executive chairman of Taiwan's largest hotel operator, Formosa International Hotels, which includes the luxury Regent Hotels & Resorts, lifestyle brand Silks Place and the budget chain Just Sleep. From his perspective, the New Asia also represents a harmony of contrasts: "Modern yet timeless, simple yet luxurious."
55/93 Darren Teoh
Darren Teoh's Dewakan was named the first—and only— Malaysian restaurant on the Asia's 50 Best list last year. The restaurant puts the spotlight on locally sourced produce, incorporating ingredients such as Bario rice, banana blossom and ulam raja in elaborate nine-course menus. In a fast-paced industry, Teoh gives this advice: "You will always be in a constant state of arrival and departure," he says. "Learn that."
56/93 Katrina Razon
Razon wears many hats in various industries: as a DJ under the moniker Katsu, as the director of Wonderfruit Festival, and as a managing partner at branding and marketing agency Third Culture Music + Media. She also launched KSR Ventures, a venture capital firm, through which she hopes to promote and raise awareness of social, environmental and sustainable initiatives. "Asia means new opportunities on the horizon, a growing creative culture and edge," she says.
57/93 Maria Taniguchi
Taniguchi is well-known for her ongoing series, begun in 2008, of unnamed and unnumbered "brick paintings," which are made of repetitive rectangular patterns. To complete each piece, the artist draws a grid, filling one "brick" at a time over a period of months in her studio. She also dabbles in printmaking and abstract videography, the latter often focusing on objects connected to Philippine history. In 2015, she won the Hugo Boss Asia Art Award, which brought her further international acclaim.
58/93 Mike Concepcion
Concepcion has always been keen on finding spaces in the retail world where he can cultivate concepts based on his most compelling passions. He first came in with Ronnie and Joe, a premium optical salon that carries heritage eyewear brands. An avid sneakerhead, he was highly instrumental in bringing streetwear lifestyle boutique Commonwealth from the US.
Together with his father, this intrepid entrepreneur also has a foot firmly planted in the restaurant industry, having brought concepts such as Yabu, Ippudo and Elephant Grounds to the Philippines through their company Standard Hospitality Group.
59/93 Ong Ning-Geng
An intellectual with a double degree in computer science and physics, Ong Ning-Geng developed an interest in the process of making chocolates while he was based in the US. It was mind-boggling to him that Malaysia, as a producer of some of the world's best cacao, imported almost all its chocolate from abroad. A scientist at heart,
Ong decided to become a full-time farmer and chocolatier. Today, his artisanal, single-origin chocolate venture Chocolate Concierge co-owns 16 farms tended by the indigenous Semai and Temuan communities. Ong personally collects fresh beans from farmers, then processes them back at his Kepong facility to make his chocolates that are sold in a boutique in Bangsar Shopping Centre. Besides working to uplift local communities, Ong is also something of a wit. Asked his biggest fashion regret, he replied, "A few weeks back, I was washing up in the river after everyone had left the farm in the evening, butt naked. I heard a sound on the other bank as if something was approaching. The sun had set. I had my shorts lying next to my sharpened machete on a rock. I only picked up one item."
60/93 Heart Evangelista
She entered show business as a bright-eyed 14-year-old, endearing herself to Filipino audiences through her roles in youth-oriented television programmes and films. Artist, advocate and entrepreneur Heart Evangelista has evolved into one of the most sought-after style icons, with a 4.9 million-strong Instagram following. She enjoys chronicling her glamorous day-to-day activities on social media along with updates on work-related matters and philanthropic endeavours, local and international travels, and family life.

She has become a close friend to many big names, too, including Crazy Rich Asians author Kevin Kwan and fashion designer Christian Louboutin, who often sends her shoes with personalised notes and sketches. Evangelista herself is a talented artist, having mounted successful exhibitions of her work in Manila and Singapore.

"Doing what I love for 23 years is an achievement for me and to be collaborating with different brands that I love is truly special," she says. "It's a gift that I'm able to work with different people and learn from the experience. And also as an artist, one of my biggest achievements is to be able to showcase my art through exhibits and collaborations—just getting to share my art with people is something I'll never take for granted."

As wife to Sorsogon governor Francis "Chiz" Escudero, Evangelista has embarked on her own philanthropic initiatives—usually in relation to healthcare, relief operations and children's welfare—that help uplift the lives of her husband's constituents. She has also been instrumental in increasing awareness on the wellbeing of animals, having partnered with local rescue groups to feed, shelter and care for stray dogs. She has committed her resources to the construction of an animal welfare facility in Sorsogon.

"I think the New Asia is a major change in the way Asian countries relate and interact with each other," she says. "It's a better way for all of us to connect and share our culture, whether through business or entertainment. It's a good change that we all need."
61/93 Ivan Pun
Entrepreneur and art patron Ivan Pun is the brains behind Pun + Projects, a lifestyle company that has launched some of the most exciting bars and restaurants in Yangon, including Burmese brasserie The Pansodan and health-food-focused Locale. Pun splits his time between Yangon and Hong Kong, where he supports several art and design organisations, including the Asia Art Archive and Design Trust.
62/93 Jennifer Woo
One of the most powerful executives in fashion, Jennifer Woo is chairman and CEO of Lane Crawford Joyce Group, the parent company of retailers Lane Crawford, Joyce and Pedder Group, as well as brand management Imaginex Group, which introduced labels such as Salvatore Ferragamo, Gucci, Prada and Cartier to Mainland China.
Today, from the company's headquarters in Hong Kong, Woo and her team work with more than 1,600 brands and operate more than 600 points of sale across Mainland China and Southeast Asia.
63/93 Loui Lim
Lim is literally making waves in his family business as executive vice-president of new ship designs for Genting Cruise Lines, which was founded by his grandfather, the late Malaysian billionaire Lim Goh Tong. Lim hopes to shift the company's focus from gaming to travel, wellness and entertainment—he once designed a roller coaster theme park on top of a cruise ship.
"I try to bring a fresh perspective and new set of eyes to the table," he says. With a background in luxury travel, it's no surprise that he's had some epic experiences—from taking a sunrise safari via hot air balloon over Kenya's Maasai Mara reserve to trekking through the Vietnamese jungle to camping inside the largest cave in the world.
64/93 Chen Man
Beijing native Chen Man is a contemporary Chinese fashion photographer known for mixing traditional techniques with modern 3D rendering software. Her big break came in 2003 when she photographed a series of covers for Vision, a design and art magazine based in China. "The cover of the first issue of Vision was taken when I was still in college," she says. "I used a lot of post-production and four software programs to complete a photo."
Man is also a muse of many fashion brands, including Shang Xia, the Hermès-backed Chinese luxury house. "The New Asia to me is a mixed Asia," Man says. "The east is not the pure east and the west is not the pure west. The future and the past are mixed together."
65/93 Douglas Woo
The son of Peter and Bessie Woo, and brother of Jennifer Woo, succeeded his father as the head of Hong Kong's storied Wharf-Wheelock behemoth in 2014. Douglas Woo eschews black-tie galas for gym time, and ostentation for understated elegance—a trait that resulted from his years as an architecture student at Princeton.
Together with his father, Woo led the transformation of Central's iconic mid-century government block Murray Building into The Murray, a stunning hotel that was chosen as the location for Woo's photoshoot. During the shoot—his first-ever for Tatler and one of the very few he has agreed to in recent years—Woo was contemplative as he stood on the rooftop and surveyed Central, the scene of much recent unrest. But, with a stoic gaze, he also exuded a quiet confidence that Hong Kong—like The Murray itself—will be reborn.
66/93 Otto Ng
Ng is a breath of fresh air in Hong Kong's design community. As the co-founder and design director of LAAB Architects, he has made a name for himself for his airy, nature-inspired spaces, including the Bohemian Garden, Nature Discovery Park and Opera Theatre at K11 Musea. "I'm trained as an architect, but I'd say I'm more like a storyteller," he says. "I tell stories about a place and its community through the media of architecture and art."
67/93 Joe Flizzow
Ever since he was a child, Joe Flizzow knew he wanted to be a musician. Born to a family of entertainers, he began rapping at the age of 11. He started out as a member of the award-winning Malaysian hip-hop duo, Too Phat, with Malique Ibrahim. "We went through a lot of hardship to put our first album out, and ended up doing it independently, needing to borrow money from my parents," says Flizzow. "I am grateful to my family for being there, every step of the way." Since then, he has made it his life's mission to expand the hip-hop music scene for local artists by founding his own music label, Kartel Records, promoting their music and scouting new talents.
He also launched 16 Baris, a rap cypher show in collaboration with Rocketfuel Entertainment as a platform to showcase emerging Southeast Asian hip-hop acts. Each episode features three fresh-faced MCs and rappers, often from Singapore, Malaysia or Indonesia, engaging in a cypher and freestyling over 16 bars, thus lending the show its name. In 2019, Flizzow again came into the spotlight when Universal Music Group launched Def Jam South East Asia to focus on its vibrant hip-hop scene and brought Kartel's artists into the company. Flizzow became managing director of Def Jam South East Asia—a milestone for this businessman, who also owns his own chain of barbershops, Joe's Barber. This year he will complete another major union—with his forthcoming nuptials to fellow artist and long-time girlfriend Nini Ramlan.
68/93 Datin Vivy Yusof
It takes confidence to live in the spotlight with authenticity—something Vivy Yusof does with grace. She built her name as a dynamic entrepreneur behind fashion e-commerce empire Fashion Valet, with her husband Dato' Fadza Anuar, and created a popular collection of head- scarves and cosmetics under the label dUCk (named after a character named D). When she isn't juggling her two businesses or vlogging her life on her popular YouTube channel, she is a hands-on mother to three children.
69/93 Alan Lo and Yenn Wong
As individuals, Alan Lo and Yenn Wong each have a string of successful restaurants to their name; as a husband-and-wife team, they have a culinary empire. Through their companies—Classified Group and Jia Group, respectively—they own and operate some of the city's buzziest restaurants, including The Pawn, Duddell's and Louise.
Lo is also a major patron of the arts—he sits on the board of Hong Kong arts space Para Site and on Tate Modern's Asia Pacific Acquisition Committee, among many others.
70/93 Chen Xuzhi
Chen Xuzhi is the designer behind Xu Zhi, a London-based label stocked in Dover Street Market, Lane Crawford and Tokyo's Beams. Xuzhi's textile innovation and construction techniques earned him nominations for the LVMH and Woolmark prizes in 2016.
71/93 Lindsay Jang and Matt Abergel
Abergel and Jang have cultivated a community with their restaurants Yardbird Hong Kong and Ronin, and their online lifestyle store, Sunday's Grocery. Not only is Yardbird Hong Kong a contemporary Japanese yakitori restaurant and one of the city's most waitlist-worthy dining experiences, but also it's a masterpiece in branding, having collaborated with labels such as Vans and Stussy.
Last year, Abergel launched his first cookbook, Chicken and Charcoal, published by Phaidon. "Yardbird Hong Kong is our dream restaurant, a place where I can cook the food I love, create the environment I have always envisioned, and be surrounded by both my family and best friends," he says. For fun, we asked each to name a guilty pleasure. For Abergel, it's "bad California rolls," and for Jang, "pizza."
72/93 Nur Fazura
It is a well-known fact that Malaysian actress, singer, TV host, VJ and entrepreneur Nur Fazura travels around Kuala Lumpur with an entourage. Some people paint her as a diva but Fazura just claims to be a people person at heart and treats her inner circle of assistants, stylists and managers like family. Fazura's career took off in the early noughties when she landed a breakout role in the popular local film Gol & Gincu (something like Bend It Like Beckham meets Legally Blonde).
The gutsy tale of a young, spoilt woman challenging stereotypes to start her own futsal team made her a household name. Since then, she has starred in some 26 movies and 12 TV series, and has her own reality show, Facing Up to Fazura, on E! News Asia. Recently she launched her own label, Fazbulous, and is working on a beauty product line as well. "I live life with no regrets," she says. "Try everything. Fail or succeed, at least you've tried."
73/93 Han Chong
Malaysia-born, London-based Han Chong was one of the first designers to infuse a social-media strategy into a label's DNA, in his case the label Self-Portrait, which he launched in 2013. "Clothing nowadays needs to be photogenic and [because of that] our lace dress really took off and became a part of our signature style," he says. With just a few snaps by the right influencers, Self-Portrait saw a meteoric rise in sales at Selfridges the following year.
"I was a poor student once, and had special occasions and wanted to dress up, but my friends and I couldn't find pieces that were special that didn't break the bank," he says. "Fashion is not just for the girls who have tons of money; it just didn't feel right to make someone spend £2,000 on a dress when some people are still struggling to get food." Now beloved by schoolgirls and celebrities such as Reese Witherspoon and Beyoncé alike, the Central Saint Martins' alum is a New York Fashion Week staple and launched his first ever swimwear collection to much fanfare in late 2019.
74/93 Yang Yuancao
Television executive Yang Yuancao—whose English name is Rebecca—has been responsible for the development of top TV shows in Mainland China including China's Got Talent and The Voice of China at IPCN, a leading entertainment business, production house and broadcasting consultancy. In 2015, she and Belle Sauvage jointly launched the fashion brand I.AM. Her advice is straight to the point: "Respect human nature and follow logic."
75/93 Kevin L Tan
Tan discovered his passion for property development when he was tasked with starting his family's mall business. Now, he is one of the youngest tycoons in the Philippines, having taken over from his father as the CEO of Alliance Global Group Inc in 2018. This growing conglomerate is also one of the country's most diverse, with interests in commercial development, real estate, and food and beverage, including ownership of Megaworld, Travellers International Hotel Group and Emperador Inc.
Tan played a pivotal role in Emperador's overseas expansion, including the acquisition of Bodegas Fundador Pedro Domecq of Spain and Whyte & Mackay of Scotland. "The world is paying more attention to Asian countries like the Philippines," says Tan. "Asian countries now enjoy an even greater influence over a much broader global audience who have become much more aware and appreciative of our culture, whether it's our cuisine, performing arts, fashion or even music."
76/93 Rayi Putra Rahardjo and Nindy Ayunda
Rayi Putra Rahardjo—better known as Rayi and as a member of RAN, a trio he has been a part of since 2006—had already decided on his career path by early adolescence. "I had known that I wanted to be a musician since middle school," he says. "I don't know what else I would be doing if it wasn't music." In high school, with his schoolmate Asta and some friends, Rayi formed a group called F.R.D., which stood for Funk Rap Disco, and won several music competitions before they disbanded after graduation. Then in 2006, Rayi and Asta formed RAN with Nino, another schoolmate, to compete in the Indonesian Song Festival hosted by JakTV. They won second place with their song "Pandangan Pertama" and signed a contract with Universal Music Indonesia. Their debut album RAN for Your Life was released in 2007. Rayi—who draws his influences from names like Pharell Williams and Kanye West—has also been working on side projects and been featured in songs by other famous young musicians such as Isyana Sarasvati, Billy Simpson and Marion Jola. (Still, he lists Ariana Grande and Taylor Swift among his guilty pleasures.) Despite having been successful with his own personal projects, Rayi still prefers working with his group. "I enjoy doing both actually," he says, "but if I had to pick between working solo or working with my group, I'd still choose to be with my group because I know I would always be surrounded by my friends." Asked whether he feels like he has accomplished everything that he hoped, Rayi answers: "Maybe I have, but 'the game' in this industry is not about how high you can go, but rather about how long can you stay here." He shares his underlying principle of how he defines success: "Bringing joy to people through my music is what success means to me."
Nindy Ayunda stepped into stardom competing on Olay Duet with Audy in 2006 when she was 17 and still in high school. After winning the talent show she then collaborated with Audy and released the single that made her famous, Untuk Sahabat. "I've always loved singing ever since I was very young, but I had never thought that it would be my career path," she says. "It was my father who convinced me that I could make it as a singer. He was very supportive of me and often accompanied me to singing competitions when I was a kid." Since then, she has released her own albums and singles and even starred in a movie, as well as commercials and many other projects, and she's looking forward to more. "There are no limits to your dreams. I still have a lot to achieve, especially for my mum and dad," she says. "Right now, I'm grateful for where I am and for being appreciated for my work." Nindy, who has a passionate interest in fashion, says that she's preparing to spread her wings into the business world. "I want to run my own companies, especially in fashion and cuisine. I'm still conducting research to find out what the younger market is into now, especially as the market will only grow bigger in the future," she says.
77/93 Liang Zhouyang
Liang Zhouyang, the great-granddaughter of China's famous architect couple Liang Sicheng and Lin Huiyin, is an advocate of green development and environmental protection. In 2018, she was invited by the US-China Green Fund to be head of the US-China Environmental Protection Foundation. Under her leadership, the foundation has launched the programme Into the Campus to provide lessons on waste production and environmental protection to pupils.
78/93 Georgina Wilson-Burnand
Georgina Wilson-Burnand rose to prominence as a model, host and VJ. Still a regular face in endorsements and publications, she is known across Asia for her many hosting gigs, including Asia's Next Top Model and Miss Indonesia. Wilson-Burnand is brand director of Sunnies Studios, a company that sells stylish sunglasses and prescription eyewear. The business has expanded its portfolio to include a restaurant (Sunnies Café) and a make-up line (Sunnies Face).
Sunnies Face, in particular, was incredibly quick to gain traction among beauty enthusiasts, and has launched a collaboration with model-actress Rosie Huntington-Whiteley, who curated two limited-edition kits for the brand. "Asia is where it is happening," she says. "It is what the rest of the world wants to be part of."
79/93 Kim Jones
This all-around digital creative force—writer, art director, stylist and photographer rolled into one—started her career as an anonymous resident of the blogosphere. Her initial aim was collating keepsakes such as photos, poems and art in a virtual space. An advocate of promoting Southeast Asian talent to an international audience, Jones launched The Fore, a design collaboration series and e-commerce website that highlights up-and-coming talents from the region.
Through this venture, Jones endeavours to reframe the way we look at consumption and ethical fashion, hoping to add value to an already saturated platform.
80/93 Lauren Khoo
Now splitting her time between Singapore, Hong Kong and New York, Lauren Khoo's background informs her designs—she has been inspired by gummy bears (a favourite childhood snack) and the animals of the Chinese zodiac. When she launched her jewellery collection Lauren X Khoo in 2014, her designs were picked up by cult boutiques Colette and Dover Street Market New York almost immediately.
Since then, the brand's cool factor has only grown, with vaunted stockists such as Moda Operandi and a collection that debuted at an Oscar de la Renta show at New York Fashion Week last year. Says Khoo: "The New Asia is the celebration of talent and like-minded individuals nurturing their ambitions."
81/93 ML Piyapas Bhirombhakdi
The daughter of the late courtier MR Yongsawasdi Krida- korn, a deputy director of the Crown Property Bureau, and Thanpuying Viyada, former lady-in-waiting and personal dresser to Her Majesty Queen Sirikit the Queen Mother, Piyapas very much followed in the parental footsteps when she took over her mother's position to become an aide to Queen Sirikit herself.
A royal descendant in her own right—she is a great-granddaughter of Prince Nares Varariddhi, a son of King Mongkut (Rama IV)—this A-lister is also an actress renowned primarily for her appearance in the title role of the 2001 Thai box office hit The Legend of Suriyothai. Her other interests include a business partnership with Poruethai Narongdej in Guts Entertainment, a producer of drama series for local TV.
82/93 Royce Hong
Royce Hong, known as "the one who created Taiwan's first electric race car," is the owner or CEO of three companies: Panasonic Taiwan, IPEVO and Xing Mobility. Born in Hollywood, he has worked and lived in Taipei for most of his life. He first founded the architecture and design firm XRANGE with his wife, architect Grace Cheung, then IPEVO, an upstart maker of interactive education devices now used in over 60 per cent of US K12 schools.
In 2015, he co-founded XING Mobility, a startup developing advanced electric vehicle technologies through racing and supercars, with former Tesla engineer Azizi Tucker. By creating the Immersion-Cooled Modular Battery Pack System, Royce not only made his supercar dream come true, but also provides a resource-efficient technology that allows vehicle makers across multiple industries to rapidly replace their petrol engines with electric drivetrains.
83/93 Kezia Toemion
Kezia Joy Toemion's passion for beauty products has turned a love for make-up and beauty into a career. "It has always been a dream of mine to start my own cosmetics company," she says. "Working in the beauty industry is one of my greatest passions, and I wanted to have a career that I love, which is perfectly aligned with that passion." With her best friend Cindy Angelina, Kezia has become a rising player in Indonesia's cosmetics industry with ESQA Cosmetics, a vegan brand made using premium-quality ingredients free from harmful additives.
"Enjoy every minute of your journey and keep pushing yourself to be a better version of you with new milestones," she says. "I am very grateful to have checked a lot of the boxes when it comes to my goals. But setting clearer and newer goals can be beneficial in several ways, one of which is to keep you from becoming stagnant."
84/93 André Chiang
André Chiang has become one of the most successful chefs in his hometown of Taipei. Chiang started cooking at age 13 during his formative years as a student in France and joined the three-Michelin-starred Le Jardin des Sens in his 20s. Armed with an array of culinary experiences, he went on to open a number of exceptional restaurants of his own in Singapore, Taipei and Paris, including Restaurant André (now closed), Burnt Ends and RAW, each of which have earned Michelin stars or ranked on Asia's 50 Best Restaurants lists. More recently, he opened The Bridge restaurant in Chengdu, China.
85/93 Kris Wu
Wu is a pop-rap phenomenon who has taken Asia, especially China, by storm. He first broke onto the scene as a member of Chinese-Korean boy band Exo, but since going solo he's been blazing his own trail as an actor, musician and fashion figure. He's collaborated with Burberry and with Bvlgari as a brand ambassador, and he attended Louis Vuitton's men's autumn/winter 2020 show in Paris, where he rubbed shoulders with Bella Hadid and Takashi Murakami.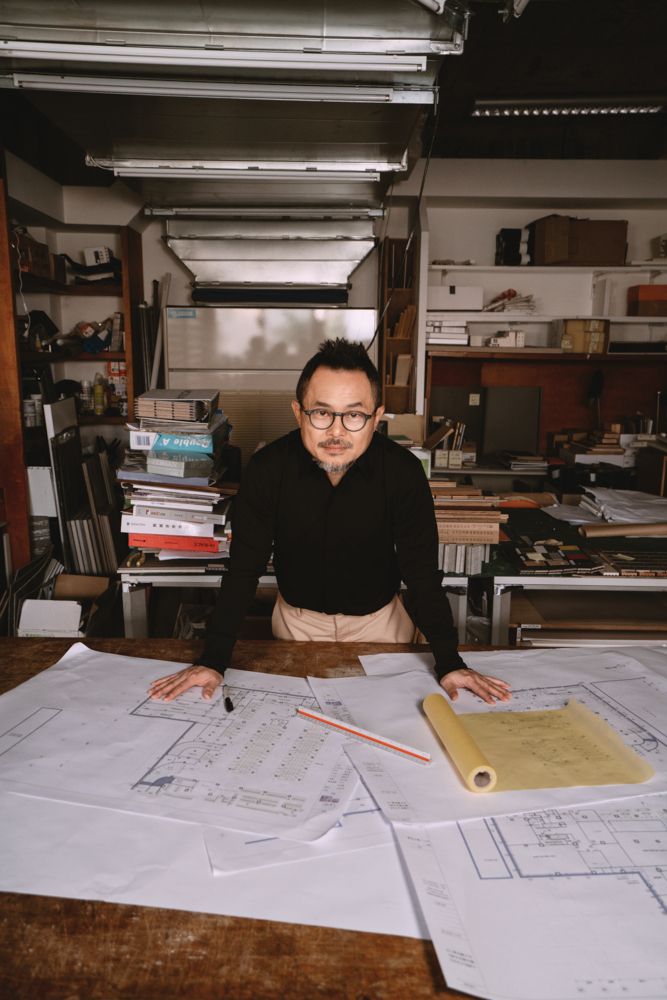 86/93 Ying Chao Kuo
Ying Chao Kuo is the principal architect of Bio-architecture Formosana. He has won numerous sustainability awards for his designs and was the recipient of the 12th Annual Outstanding Architects Award in 2011. The studio's Bei-Tou Library, one of the most celebrated green building in Taiwan, has been listed as one of the 25 most beautiful community libraries in the world. He says, "You don't need to be a businessman to do good business."
87/93 Jonathan Cheung
Every city has a "one to know" when it comes to staying in the loop with the hottest parties and events. In Hong Kong, that someone is Jonathan Cheung, or "JC." Cheung is co-founder of the PR, marketing and events company Buzz Agency as well as a patron of the arts; during Hong Kong Art Week 2019, he and Edward Tang hosted an intimate cocktail reception at The China Club in honour of Maria Balshaw, director of the UK's Tate museums and galleries.
88/93 Padmanabh Singh, Shalini & Samir Kasliwal
India may have abolished royal titles decades ago, but this jet-setting polo player is nevertheless informally known as the Maharajah of Jaipur and has been granted all of the pomp and ceremonial blessings of such a title since it was bestowed upon him in 2011, when he was just 12. Singh has approached the role more as that of an ambassador for Jaipur and sought to further promote the glamour of the Pink City and its long association with polo.
Siblings Shalini and Samir, the children of Gem Palace creative director Sanjay Kasliwal, continue to play important roles in the family business. Shalini is CEO of Sanjay Kasliwal USA, and is driving the company's expansion into the US, while Samir is partner and designer.
89/93 Jiang Qiong Er
Jiang Qiong Er, founder of lifestyle brand Shang Xia, combines traditional crafts with contemporary design. Her business advice is as elegant as her designs: "Always be real, be kind, be beautiful."
90/93 Feiping Chang
A fixture on Hong Kong's social scene, Chang made headlines for her lavish 2017 wedding to financier Lincoln Li in Capri, where the pair restored part of the historic Villa Lysis in order to be the first couple to wed there. The bride wore custom Giambattista Valli. Asked if she had any regrets, she demurred: "No regrets, despite many eye rolls from my best friend Jonathan Cheung."
91/93 Victoria Tang-Owen and Rocco
Victoria, the daughter of the late Sir David Tang, was named Shanghai Tang's creative director in October 2018 and in late 2019, she launched her debut collection for the brand. "Not only can I inject my new vision into it, my new interpretation: I can reimagine what Shanghai Tang was and what Shanghai Tang could be. That's the journey I'm excited to take," says Tang-Owen, who is married to Christopher Owen, with whom she has one son, Rocco. Outside her role in fashion, Tang-Owen is the president of the Hong Kong Down Syndrome Association.
"We are seeing more and more emerging creative talents from the Philippines, Thailand, Korea and other Asian countries, which is giving the region a cool vibe," she says. "For me, it's about celebrating a Chinese perspective and culture—our recent collaboration with Chinese artist Xu Bing encapsulates that. He used his Square Word Calligraphy series and adapted the phrase 'Created by Chinese' for Shanghai Tang."
92/93 Fiona McLeish
Scottish-Chinese model Fiona McLeish's star has been steadily on the rise since she was signed to Kim Chou's Style International Management Group, which represents some of Asia's most recognisable faces, including Angelababy, Kiko Mizuhara and Lynn Xiong. Fiona is engaged to streetwear magnate Kevin Poon, and the pair regularly travel the world to attend the most coveted events and fashion shows.
93/93 Kevin Kwan
"To me, the New Asia represents a world of possibility." says Kevin Kwan, bestselling author of Crazy Rich Asians and its sequels, China Rich Girlfriend and Rich People Problems. "Its future may be unformed, but it's one that looks forward versus looking towards the past. In so many other regions, in Europe and the United States, there is a nostalgia for what once was, whereas in Asia, you feel this dynamism of people really wanting to look to the future and all the possibilities it may bring."
Related: Author Kevin Kwan Compares the "Crazy Rich Asians" of Then and Now