Fashionista Tanyaluck Prommanee On The Importance Of Thai Silk And Craftsmanship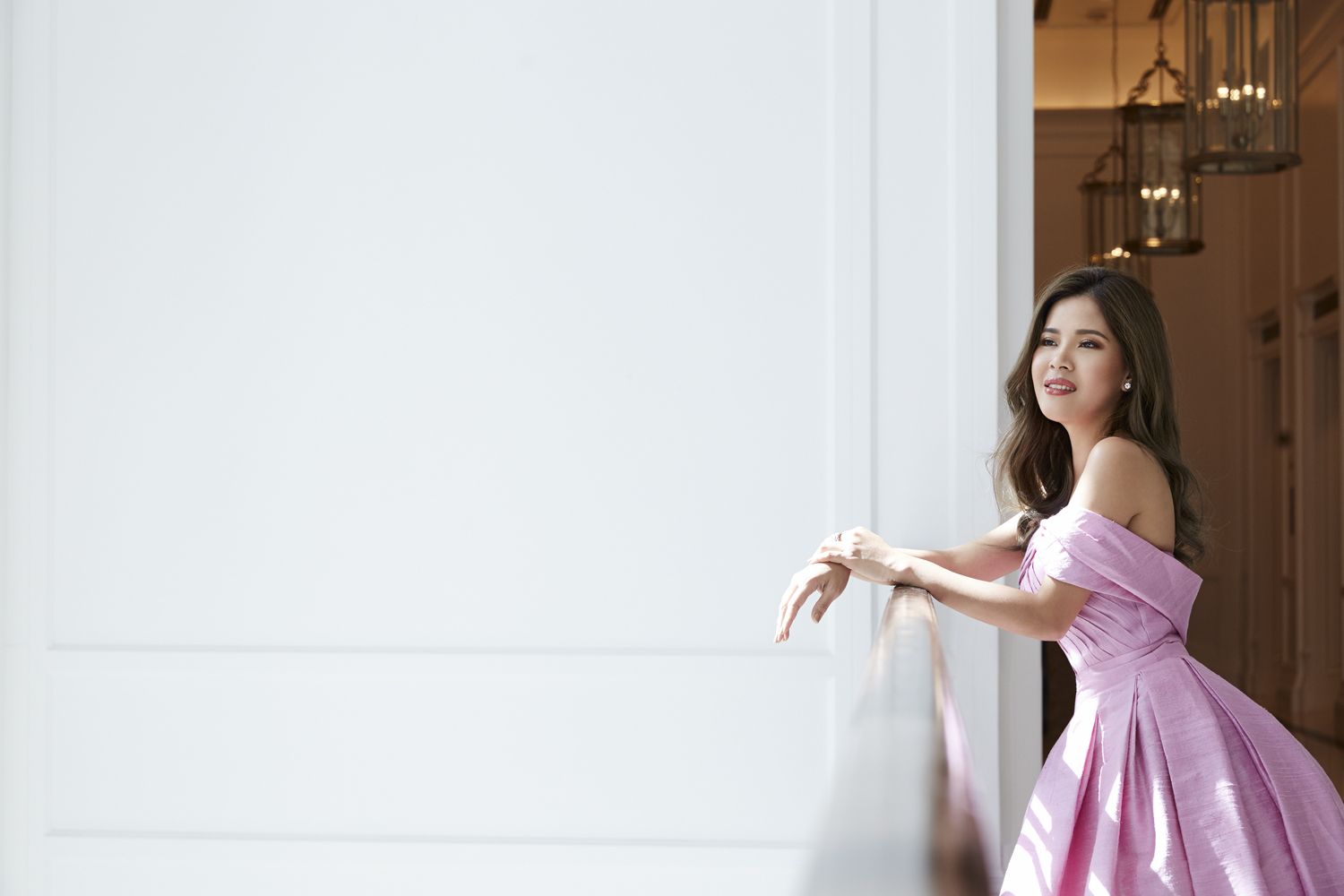 While Tanyaluck Prommanee enjoys a jet-set lifestyle, the young fashionista also has her sights set on becoming a champion of traditional Thai silk
People travel for a myriad of reasons—some for business, some for the escapism and excitement of experiencing new cultures. For Tanyaluck Prommanee, or Tanya as she prefers, frequent travel is a means to indulge her love for the glamorous world of high fashion. Being able to get up close and personal with designers while admiring the exquisite collections of the world's leading haute couture brands is what gets her ticking. A regular VIP guest at extravagant global runway events over the past five years, she is often seen at the annual Paris and Milan fashion weeks and if you were lucky enough to attend the ultra-exclusive Christian Dior high jewellery exhibit at the Versailles Palace a year or two ago, you may have rubbed shoulders with her.
Tanyaluck grew up in a loving family home surrounded by fruit farms and flowers. As a young child she recalls her grandmother dressing in traditionally made Thai silk outfits to make merit. It was a familiar sight that would help to mould Tanya into a woman with a passion for the material fashioned into pieces of wearable art.
As a student she earned a bachelor's degree in international business administration from the Eastern Asia University, following which she went to work in the booming real estate industry as a negotiator fostering and consolidating home property deals. She was immediately successful and cut a chic figure in a male-dominated industry. Her success allowed her to indulge her abiding love of fashion.
"I have always admired well-made clothes and I was intrigued by the details and stories of brands such as Chanel, Prada, Balenciaga, Christian Dior, Dolce & Gabbana, Saint Laurent, Versace and Armani among others. I see haute couture pieces as art to keep. I like many different styles and change my wardrobe frequently, which is why around five-odd years ago I started to receive invitations from the fashion houses to their shows—I'd become a serious customer by that stage. I was thrilled and made a point of wearing outfits I'd had made by Thai designers in Thai silk—the influence of my grandmother again," she laughs. The dresses got Tanya noticed and people were always asking about the silk. "I was wearing one at a jewellery show at Opera de Paris that attracted particular attention, and it hit me there and then—here was something I could get behind, promoting traditionally-made beautiful Thai silk to the world."
See also: Behind The Scenes With Haute Couture Lover Tanyaluck Prommanee
This desire to combine her interests in the fashion world and artisanal Thai silk led to the setting up of her Tanyamaithai Instagram account, which she uses to showcase her favourite material and the communities who make it. Very much in its infancy, Tanya has serious plans to grow the account. "I knew I had to understand social media better so I took a course on it at the distinguished Istituto Marangoni in Milan for three weeks. I also took another course in haute couture at the Istituto's Paris campus," she says, hinting at a no-nonsense attitude and a practical side to her nature.
She cites Her Majesty Queen Sirikit the Queen Mother as an inspiring example because of her lifelong promotion of local community craftsmanship, especially the traditional production of Thai silk. "I really admire that," Tanya says. "I want to make a contribution and do my part as well in some way. The fashion industry has to be socially responsible. More and more at the annual fashion week events I hear about issues such as the lack of recycling in the industry and the need for ethical practices in production chains. I want to source the best fabrics possible for my Thai outfits and promote them through my Tanyamaithai account. The best silks are hand-woven by artisanal producers who must be looked after well if they are going to perpetuate their important craft."
Thai sericulture entails not only hand-weaving silk fabrics but also villagers raising their own silkworms to produce the raw silk. In an effort to better understand the intricacies of the entire process, Tanya made a point of visiting several silk-producing communities in the provinces. "You really have to experience it for yourself to truly see how difficult and meticulous the weaving process is," she says. "I like to think I'm creatively dexterous but when I had a go at it I was only able to weave six strands in an hour. As a buyer and wearer of this beautiful silk it gave me a much deeper appreciation of the effort that goes into making this wonderful material. It made me determined to support these rural communities and showcase their amazing product."
When she isn't hopping on a plane to attend fashion shows and other exclusive events around the world, Tanya enjoys her downtime with family at home, albeit still with a fashion bent. "Lately in my free time I have been getting to grips with various fashion applications for mobile phones and other online platforms to help me stay updated on the latest trends and collections. I also have a ton of fashion magazines I like to skim through and I spend time practising my drawing and experimenting with my own designs on paper. I'll admit I can't draw to save my life," she laughs, but then adds, "Thankfully, there are sketch books with ready-drawn figures, so that helps." Outside of fashion Tanya enjoys an occasional round of golf and she relaxes by gardening. "I have this thing about growing plants and flowers. It must have something to do with being surrounded by them as a child. I also have nine four-legged friends, so dog walking figures large in my life."
Though many of her trips are related to the runway shows she is invited to attend, Tanya also enjoys travelling for leisure with friends, but always finds a way to tie fashion into her activities. On a recent holiday to Africa she packed a number of garments in Thai silk because, as she explains, "I figured Africa would provide spectacular scenery against which I could be photographed wearing them, hence more content for the Tanyamaithai account." Then she giggles, "I made sure to pick vibrant colours so that I wouldn't be mistaken for lion food out on the Serengeti!"
If the world of fashion didn't exist and if she wasn't entirely enthralled by the glamorous side of life, what does she think she'd be doing? "I would probably be back in the real estate industry but this time in interior design, which also interests me. Like fashion it's a form of art."