All You Need To Know About Our Society 2020 Cover Lady: Pranapda Phornprapha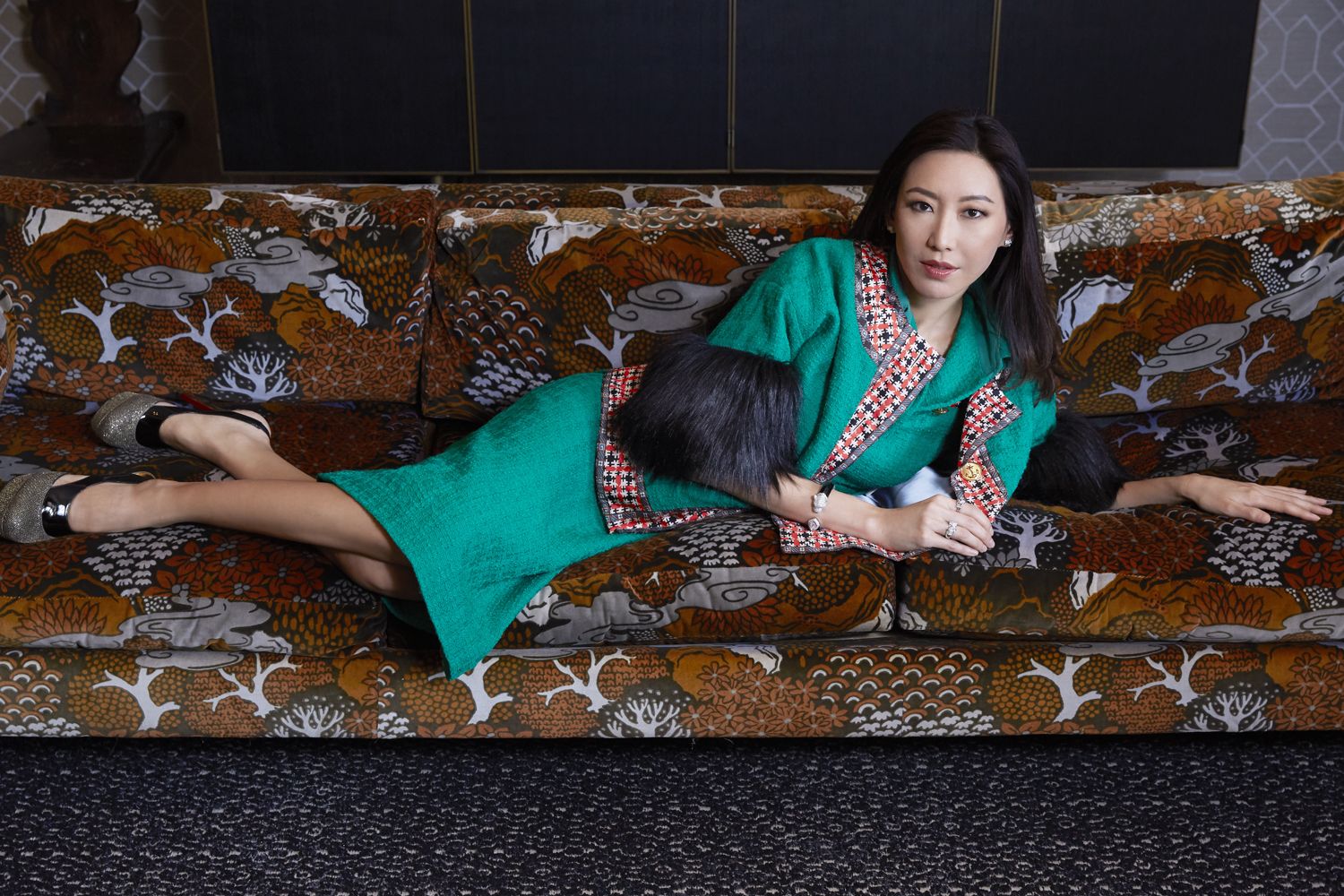 By Prijayanat Kalampasut
February 21, 2020
Pranapda Phornprapha could be a poster girl for working mums the world over. Despite a privileged upbringing she has cultivated a single-minded determination to succeed on her own terms, whether taking on multiple senior executive roles in various industries—including the male-dominated auto industry—running a burgeoning fashion business, advocating for women's rights or as a doting single mother to her young son
Among Thailand's leading female entrepreneurs is Pranapda Phornprapha, otherwise known as Pam. The only daughter of Phornthep and Mayuree Phornprapha, she is a senior executive of two family-owned businesses: president of Siam Nissan under the umbrella of automotive distributor Siam Motors, and a director of the Yamaha Music School. A fashionista at heart, she also has her own company called Paroshoot, which is the local distributor of fashion brands Christian Louboutin, Missoni, Berluti and Havaianas. While many would agree that it is difficult to manage one company let alone multiple business concerns across disparate industries, Pam's unwavering work ethic and ambition in all her endeavours make her a force to be reckoned with.
After graduating from Brown University in the US with a bachelor's degree in business economics, she spent two years working for GE Capital where she honed her skills in consumer and automotive finance. But as someone who has always had an interest in art and design, she subsequently decided to indulge her creative side by taking a master's degree in interior design at the University of California, Los Angeles.
So how did a graduate in business economics and interior design become one of the country's top fashion distributors? For Pam, interior design and fashion are both forms of communication, so it made sense for her interest to expand to fashion. "There are business reasons too, though," she explains. "Around 12 years ago there were only really super high-end brands or fast fashion labels available here," she says. "I could see that there was an untapped middle market, a gap that I thought people—particularly upwardly mobile young professional women—would appreciate being filled and that's how I got started in fashion retail, at first with a multi-brand store and then mono-brand stores beginning with a Christian Louboutin outlet."
See also: Behind The Scenes With Pranapda Phornprapha, Our Society 2020 Cover Star
Business has gone well and under Pam's leadership Paroshoot has become synonymous with family heritage brands and a focus on quality over quantity. So much so that she says she has no intention of adding other brands to Paroshoot's portfolio just yet. Her favourite part of the job is galvanising her team, energising and inspiring colleagues. "I love seeing that light come on when someone has a bright idea or works out how to solve a problem. I like seeing people happy in their work. It's not about the fashion shows and all the glamour for me...I'm more about the behind-the-scenes work."
As one would expect of a veteran of the glam rag trade, Pam's own sartorial look is classy and chic, which is why she was named Thailand Tatler's Most Stylish Woman in 2019. But despite her impeccable sense of style, she speaks about it in a nonchalant manner. "I suppose I have developed an eye for quality but I don't follow trends. I prefer an understated classic look based on apparel that lasts. That said, of the up-and-coming brands I really like Johanna Ortiz, Australia's Zimmerman, Rag&Bone and Brunello Cuccinelli." The collection of clothes in her vast wardrobe is certainly a reflection of her sophisticated tastes and laid-back personality and something of a contrast to what she describes as her adrenalin junkie streak, more of which in a moment.
"Personal style is very subjective. The whole Goth thing really isn't for me, for example," laughs Pam. "But I fully appreciate that fashion is an important form of self-expression and that it has an emotional aspect to it. People use clothes to send messages, to project an image or a mood. What I choose to wear depends very much on how I am feeling on a given day. Normally I just want to get on with things and if I had my way I would probably try to get away with a pair of jeans and a T-shirt every day." Particularly partial to the colour green—"British racing green, mossy green, shades of jade"—the business executive says she has also come to like ethnic designs and materials. "Something different. Something that isn't monogrammed, something that doesn't flaunt a label."
Given her professional and domestic commitments—she is the single mother of 10-year-old son Paro—it is a wonder Pam has time for anything else in her life but she is a driving force behind Dragonfly360, a regional initiative within the private sector that seeks to address gender inequality in Asia and to boost economic opportunities for girls and women. The inaugural Dragonfly360 summit, which took place in Bangkok in November of last year, saw local and international celebrities, business leaders and other inspiring individuals gather to shed light on the full gamut of issues affecting women today—their treatment and rights in the work place, home and a range of social milieu.
"I know there are similar summits out there," says Pam. "But sometimes I feel like they preach to the converted, focusing on women who are already empowered to a degree. I want to make a difference for women across the social spectrum, from rural basket weaver to budding business entrepreneur." Understanding the importance of engaging the audience in order to get the message across, Pam infused art and creativity into the Dragonfly event. "One of our goals is to make gender equality and women's empowerment—which are not always comfortable topics of conversation—more accessible and interesting," she says. "We created an experience that not only celebrated women but also addressed serious issues. Ultimately, our aim is to be a platform for change. Each country in the region is different but in every case the end-game is to mobilise the private sector and push for changes in the law so that women can aspire to living on an equal footing to their male counterparts, whatever their social background and community."
See also: Pranapda Phornprapha Calls For Gender Equality With The Dragonfly 360 Summit
Having never taken on a project of this kind and magnitude, the 43-year-old admits it was a challenge as well as a personal journey, citing her many years of experience in a very male-dominated automobile industry. "Believe me, I'm no stranger to sexism," she says with a wry smile. "Often I am the only woman present at meetings. On one occasion as we gathered for a discussion, one of the men turned to me and asked me to get him a glass of water, assuming perhaps that I was a secretary when I was in fact the president of the company. I have also been ignored on many occasions during male-dominated meetings but this sort of thing just makes me work that much harder to prove that I am every bit their equal as a professional."
Juggling between motherhood and a career is a challenge and yet Pam says she doesn't understand why many women these days feel they have to forego having a family in order to pursue their professional aspirations. Motherhood and forging a career is something she knows all too well. In addition to her capacity as president of Siam Nissan and a director of Yamaha Music, which operates almost 100 music schools nationwide, she has the upbringing of her son to manage. How does she do it? "I get asked that question a lot but the truth is I'm no superwoman," she laughs. "I have to admit that when I dedicate my time to one thing, other things suffer. It's not easy but I do try to compartmentalise my day and spending quality time with Paro is a must. Picking him up from school every day is a fixture and after six o'clock in the evening I try not to answer my phone if I know the call is work-related." Tellingly, she adds that she can see no reason why men, particularly in this part of the world, can't contribute more to raising children and household chores.
Coming from a privileged background is something Pam doesn't take for granted and she constantly reminds her son of how lucky he is. "Whatever he chooses to do in life, he has to put his mind to it and give it his best," says the doting mother. "I also want him to have humility and understand how fortunate he is to have been born into a comfortable life. He must use that to help others." Ironically it is Paro who keeps her grounded. "I learn so much from him," Pam smiles. "You forget how literal and unfiltered kids can be. When you reach a certain stage in your life, people can be scared to confront you or offer criticism but Paro never fails to tell me straight if I have said something stupid or done something wrong!"
What about hobbies? Well, it turns out that behind her poised and elegant exterior Pam is something of an adventurer, a self-confessed adrenalin junkie who enjoys activities such as bungee jumping, wake surfing and hiking. She also finds travel cathartic and loves discovering different cultures with Paro. "He kind of dictates where we go now," she laughs. Current destinations on their bucket list include Machu Picchu in Peru, the Galapagos Islands and Petra in Jordan.
It comes as no surprise that for a busy and ambitious individual like Pam, her biggest pet peeves are laziness and playing the victim card. Live life abundantly and work extra hard to achieve your goals are her maxims. And her advice to aspiring entrepreneurs is to not be afraid of failure because that's how one learns. "Get yourself a mentor," she adds. "More often than not, the people with experience actually want to help and are more accessible than you may think."
See also: 4 Tatler Couples Who Love Travelling As Much As Each Other
Photography Chaiwat Kangsamrith
Hair Pichet Poobanthat
Make-Up Jiranat Tangpaisalkij
Styling Aruchan Phanpat