Palat Charoenthaitawee's Bangkok Pad Is A Hidden Gem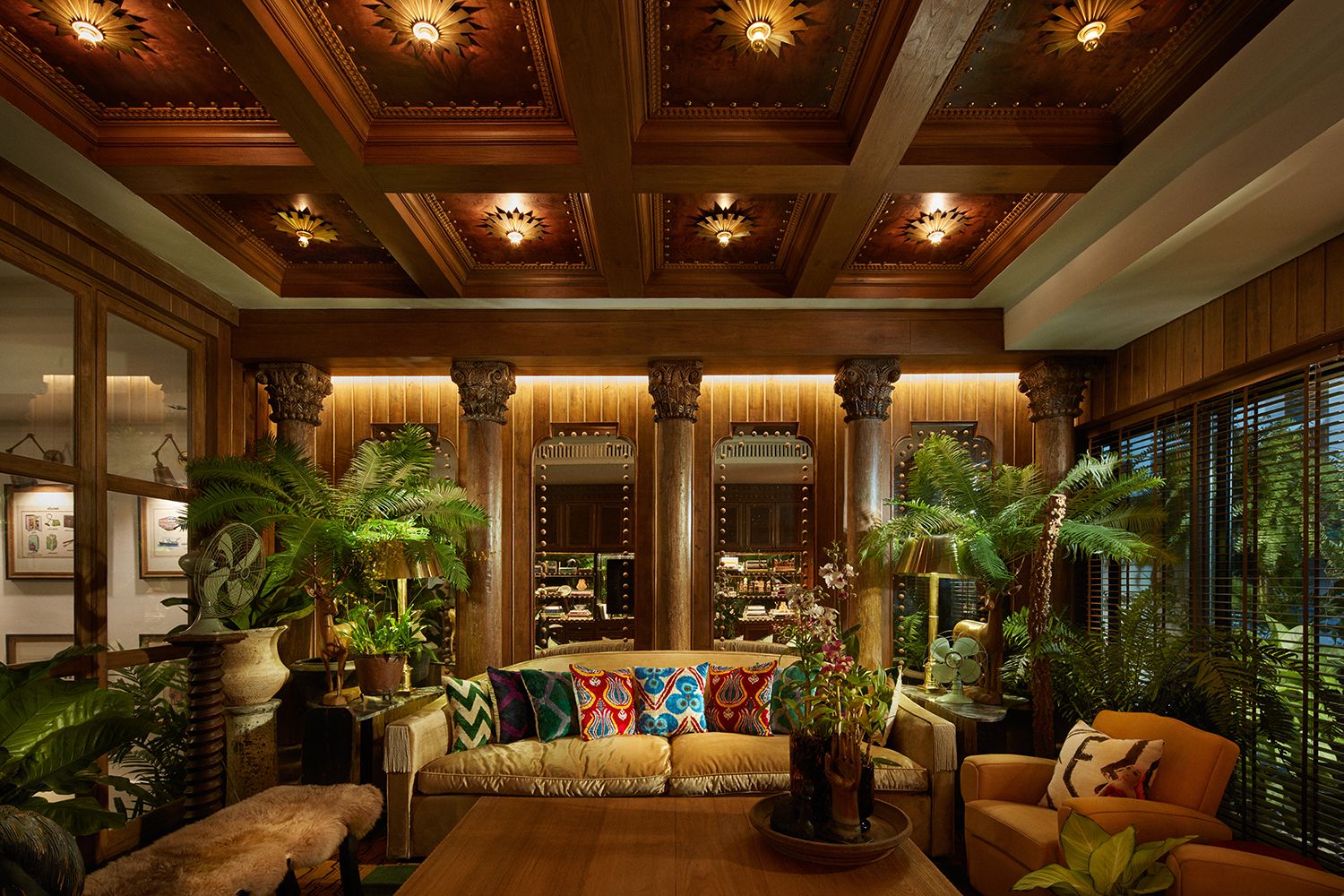 By Phunnattha Manutham
December 21, 2020
Interior designer Palat Charoenthaitawee has created a treasure trove of style and comfort at his Bangkok home
"I never thought I would live here," laughs Palat Charoenthaitawee as he welcomes us to his beautiful seven-storey residence in the Yen Akart area of Bangkok. Looking at the tastefully designed wood, marble and glass entrance of the 25-year-old property, the statement requires some clarification. Petch, as he prefers to be known, explains that the building originally belonged to his aunt. "I was in the midst of fixing up my own house and she kindly allowed me to stay here for a while. That was five years ago," he chuckles. "I ended up buying the place from her two years ago and had the interiors redone in less than a year."
The more time Petch spent at the property, the more he began to visualise how it might look with a makeover. He also recognised an opportunity. "It's very hard to find this kind of split-level townhouse these days in the centre of town and when you do they are invariably expensive," says the founder and lead designer of furniture manufacturer P4 Space and design firm Palat Studio. "I also realised I could use the house as both home and showroom. A living canvas to illustrate my interior design work."
Aside from the chic external look of the entry way with its cobbled whitewashed walls, marble steps, glass and stained wood, the residence has a fairly unassuming exterior. But enter the house proper and it feels a bit like stepping into another world, an Aladdin's cave of contemporary design in traditional finishes. Sculpted cane chairs complement cleverly hidden storage cupboards panelled in the same rattan-like material as a back-lit wall-to-ceiling shoe closet. House plants add splashes of deep green to the russet tones of throw rugs and the different browns and beiges of wooden ceiling and stairs.
"This is where I get to say 'welcome to Narnia,'" smiles the Parsons School of Design graduate. "You'll see a number of different styles mixed in in places but that's because I want to show prospective clients as much as possible. Much of what is here in the way of more permanent fixtures are things I like personally, while some of the decorative items and some pieces of furniture are things I think will appeal to clients who may acquire them."
At the back of the ground floor is a room that Petch and his team use as an office. "Originally it was for storage but we cleared everything out and turned it into a home office—although we also use most of the rest of the property at some stage throughout the working day," he grins. The relatively small space is cleverly amplified with recessed ceilings. "The building is designed with split levels so certain rooms are able to accommodate high ceilings, up to four metres high. Because I work at home I invite my clients here for consultations. It helps show them what our firm can do and at the same time they get to experience pieces in situ."
The office accommodates five desks with a small library section and is partially lit by a retractable skylight. "We'll have initial client meetings here in the office and then move up to the living room and then the dining room for refreshments and snacks. It's all part of getting to know the client," Petch explains as he leads us up to the second floor. Three alcoves built into the wall immediately greet the eye, each furnished with porcelain statues, stained glass and pottery. To the left is the living room, and up to the right the dining room.
More luxurious homes: Jindabha Devakula na Ayudhya's Home Is Compact And Bijou
For Petch creating the perfect home involves meticulous planning and questioning, soliciting details ranging from precise dimensional measurements to how large a collection of clothes the lady of the house expects to accommodate. "Of course, one of the first questions I ask a client is 'what is your budget?' When it came to this property I really didn't have a budget but I tried to be reasonable," he says as he shows us into the living room.
Immediately the Aladdin's cave metaphor comes to mind again. "This is where I spent most of my savings," the designer laughs gesturing around the room. And it is easy to see why. The space comprises a riot of eclectic features that somehow come together to create an inviting whole. Roman-influenced columns from India stand sentinel behind a huge sofa sporting numerous brightly patterned cushions. There are pieces of pottery, antiques, a plush rug and furs on the floor—even a piece of pop art on the wall—and house plants galore. A large custom-designed coffee table has pride of place. Flanking it on either end is a horse-headed bench draped with synthetic fur and two natty, almost orange coloured, armchairs. Teak wood surfaces abound, some sporting animal statuary. "When I got the deers their horns were made of wood and since this was not quite the thing I had them replaced with real horn. Meticulous I know, but they had to be right," Petch says.
Moving up a level to the dining room, visitors are greeted by two more ornamental columns at the entrance to the space, which was almost entirely produced by Petch's studio using tailor-made furniture. "The chairs, tables and stools, even the walls and cabinets are done by us. The rest are antiques. I wanted the dining room to be unique, not something you see out of a catalogue." In designing the room, he employed a mix of dark and warm tones. "The lighting gives off that attractive shimmer so whenever guests come into this room they can't help but be a little bit dazzled."
Of all the rooms in the house the kitchen next to the dining space is where Petch spends most of his time. "It's the heart of the home," he says. "My staff and I are always in here." He adds that outside of work he regularly hosts parties and dinners and encourages guests to use the kitchen as their own. "Sharing is caring," he laughs. "I've had upwards of 20 people here for soirees. Half of us end up in the living room while the other half stays in the dining room, but there's always lots of fun and movement between the two." This level also includes an ornate guest bathroom with highlights in black, brass and gold, antique pieces and smaller African columns.
Visitors never go hungry here because the owner likes to cook. "I make a mean steamed shrimp and glass noodle dish from my father's recipe. My mum also likes to cook and does great desserts." Petch shares the house with his mother, who has a flat on the fifth level, and they often spend their free time together in the kitchen. "Just recently I was a test subject for her Korean chicken fried rice. We ate that for a whole week!"
Ascending to Petch's bedroom on the fourth floor the 40-year-old says, "The décor in here might be a bit moody for some but I love this room." It has a masculine feel with dark wall panelling, and cognac-coloured wooden flooring and built-in shelves and cabinets. A similarly hued sofa and huge headboard on the bed—both finished in premium leather—reinforce the manly vibe. Character and colour are added with plants and art deco pieces and light is reflected around the room by a wall mirror featuring custom oak framing by Palat Studios. "As an interior designer I buy and keep pieces in our personal stock in anticipation of what clients might want," he says. An open closet covered by sheer curtains runs down the entirety of a wall. "Apart from liking to see where my clothes are, using panel doors would close off the space and make it seem less cosy."
Despite admitting to not being much of a television watcher, the designer eventually decided to have a TV in his bedroom. "I thought really hard about it and in the end I made the right decision," he says, and on cue the top of the bed's wooden footboard pushes open and out of it rises a screen. Controlled remotely from the bedside, Petch says it has been a boon in recent months. "Early on in the Covid-19 lockdown I found myself with lots of free time, much of which I spent mooching in bed," he giggles. "So I was very glad I had this installed. In fact, it has become one of the signature tailor-made pieces we offer."
"The fifth floor is my mother's, so we won't go there," says Petch as he leads the way up to the sixth level and the guest bedroom. The door opens to a bright space with light tones. "Everyone loves this room but honestly, I didn't intend for it to look like this. It's a bit of a hodge-podge but everything just fell into place after I got the bed," he says indicating the intricate Chinese-style wooden headboard. The room sports a mix of cultural elements—Chinese (bed and impressive wall mirror), Parisian (side cabinets and wardrobe), Nordic (warm-toned wooden floor and ceiling) and Californian chic (black and white curtains and, like the living room, a bowed cream sofa with bright throw cushions).
"Originally the headboard was simply too big for the room so we took pieces out and turned them into decorative items," Petch explains. One has become a wall adornment in the en-suite bathroom. The highlight of the room, however, is an acrylic plastic table and chairs set. "I saw one of the chairs on its own and knew it would look good together as a set and luckily found a matching lot. They were made by a master craftsman who has already passed away, so they are really quite unique."
The designer, who has collaborated with the likes of Bill Bensley and Louis Vuitton and worked on set design for TV shows The Face Thailand and Drag Race Thailand, often has friends staying overnight and that sometimes presents an issue because, he laughs, "They don't want to leave! That's why I didn't install a television set in this room. Sometimes, even I find myself wanting to sleep in here."
The seventh floor is effectively the building's attic, where Petch has plans for an indoor garden. "It's a work in progress," he says. "I will get around to it eventually but the truth is that despite the Covid pandemic, or perhaps because of it, I'm really busy right now with projects. I am also about to unveil a collection of objets called Lost and Found. Over the past year I have been steadily collecting antiques that complement my design ideas to put in a showcase. The problem is that the search for pieces has inspired me to redecorate! It is the curse of a designer's life I suppose. I can confidently say that the next time you come here, it won't look the same!"