Home Tour: Inside Prae Sirisant's Plush Residential Villa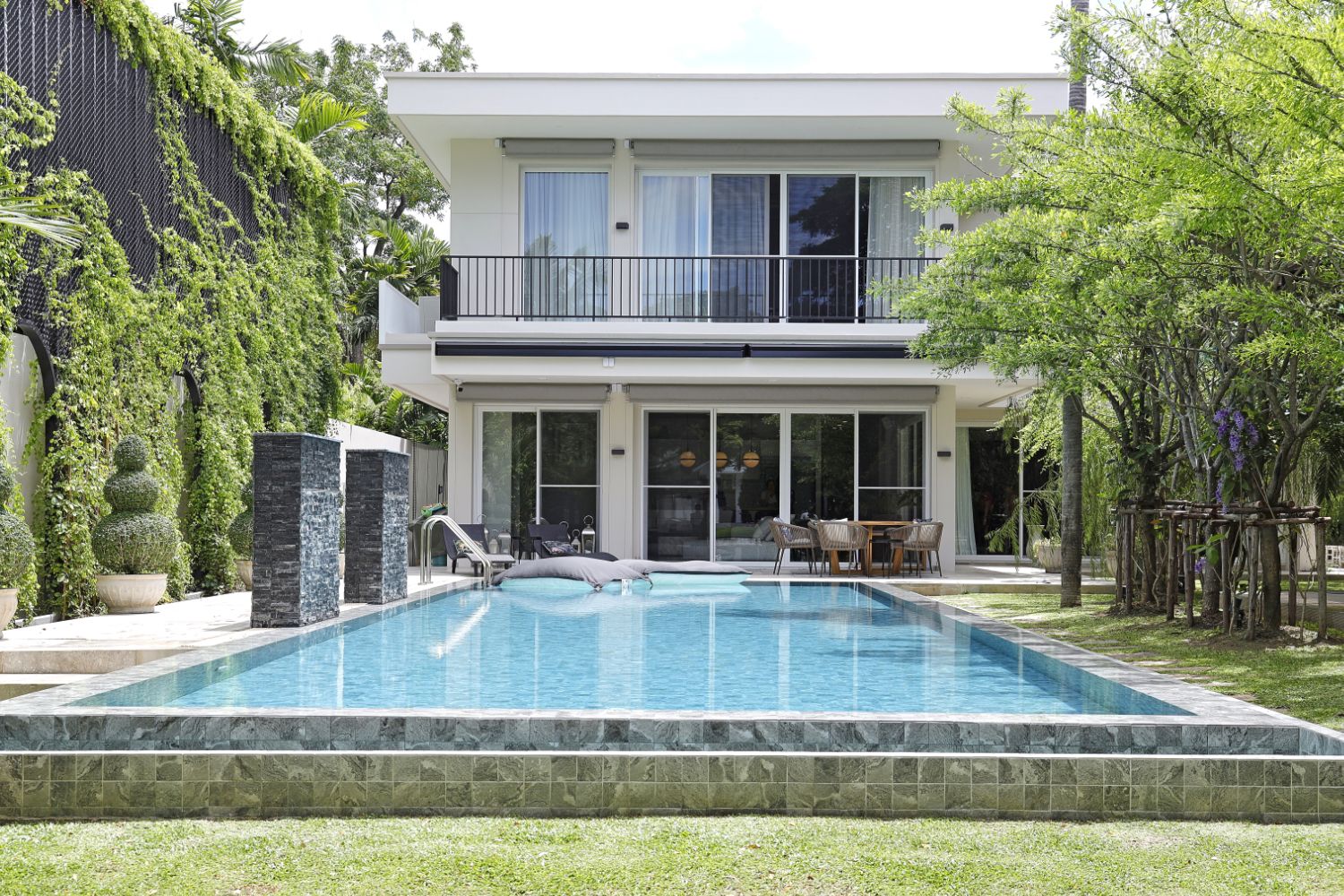 By Prijayanat Kalampasut
July 20, 2020
Tatler Thailand heads to the upscale Lakeside Villa I residential complex in Bangna where the executive director of Okuno Auromex Food and her children are settling into a comfortable life in their chic new suburban home
Very much a family affair, Prae Sirisant's new residence in Bangkok's leafy outer suburbs was three years in the making—from design through to construction and décor. It shares a two-rai plot with her parents' home, forming a verdant compound that encompasses the two houses and a neat garden and inviting swimming pool that overlook a lake. The single mother, her 12-year-old son Thyme and nine-year-old daughter Tess officially took possession of the property in January of this year. "And then COVID struck so we were house-bound, which was actually good because we really got to know the house well," says the working mum.
Unlike the neighbouring more classic-looking home in which she grew up, Prae's property showcases simple modern architecture in clean lines that give a pleasing symmetry. Seen from certain angles the house is reminiscent of an early 20th century summer villa in the south of France, a feeling enhanced by dazzling white walls and the sun sparkling on the swimming pool, all set against a backdrop of lush greenery and pale blue skies. If you half-close your eyes and ignore the banana trees and young coconut palms, it's not difficult to imagine being somewhere chic on the Mediterranean riviera.
Large wooden doors are the focal point at the front of the house. Painted grey on the outside and dark green on the inside—which contrasts nicely with the white walls—they open into a spacious area with honed marble tile flooring that Prae describes as a multi-purpose space. In fact, it is home to a chic little bar, a workstation and a dining area. "I kept to a predominantly white theme for walls, ceilings and floors because it helps to keep the interiors light and bright and because it accentuates colours when you do use them," she explains. Behind the bar, which is made out of a vintage travel trunk, the wall is fitted with dark blue wooden panels and shelving containing family photos and ornamental knick-knacks.
To the right is where Prae gets most of her work done from home. The office area boasts a beautiful wooden-topped desk custom-made by Utthayan in front of a dark wooden bookcase unit. While most of the house is kept contemporary, pieces of furniture such as the desk and office chair—a dark burgundy-brown leather affair—bring classic touches to the space. "Since lockdown I've spent a lot of time here," she says. "It's comfortable and relaxing." A small couch to the left of the desk is where the children also like to hang out, reading while their mother works.
Further to the left is a large 10-seater dining table, also by Utthayan, and above it a contemporary chandelier featuring faux candles. "As you can see, the chair frames are of different colours," says Prae. "I like adding colour here and there." This is a great spot to welcome guests for dinner, with the added benefit of large floor-to-ceiling windows facing the back garden.
Traversing an opening next to the dining table, we discover the living room with its elegant open pantry. The room is abundantly lit with natural light, again from floor-to-ceiling glass doors that give access to the swimming pool area. "I don't like to have the air-conditioning on all day so the doors allow for a good amount of fresh air and breezes through the room," says Prae. Here a muted colour palette of white and light grey melds well with the wooden flooring. Elegantly decorated and clutter-free, a light grey sofa and armchair set from Minotti face a flat-screen TV mounted in a fitted pale grey shelving and cabinet unit.
The pantry area is dominated by an eye-catching heavy wooden counter. "I like wood for its natural colours and texture and I think it brings a certain warmth to the house," the owner says, adding, "Functionality is important to me. When we designed the house, we made sure to use the space effectively so that each area had a function and wasn't just an exercise in décor. I wanted a home that was practical and this is probably where we spend most of our time as a family. The kids like to eat here at the counter and I really like chilling on the couch."
Continuing our tour we make our way down a narrow corridor beside the pantry at the end of which is a small guest bathroom and a staircase leading to the second floor. There are many ways to add character to an otherwise plain wooden staircase and here Prae has chosen to use trendy black and white graphic tiles. The stairway leads to the second floor and three bedrooms. The first to the left is Thyme's. Fit for a boy, the parquet-floored room features blues, greys and whites. Few personal touches are in evidence but as Prae points out, Thyme is often away at boarding school in the UK. The adjacent room is Tess's and unsurprisingly it has a more feminine feel. While the bed is grey, touches of pale pink are added here and there. "She's got the biggest room," the mother chuckles. As it turns out, all of the bedrooms are equipped with walk-in closets that lead to their own en-suite bathrooms. Again Tess's are accented in light pink. She's also fond of dogs, which explains her pooch-covered pillowcases and choice of framed pictures for the walls.
More luxury homes: Kunyarat Pladisai's New Home Is Comfort In The Clouds
Finally, we visit the sun-soaked master bedroom. Religiously following a less-is-more concept, this is a minimalist space in which a king-sized bed faces the garden and swimming pool below. This is the most laid-back room in the house and that's because Prae likes her surroundings to be pleasing on the eye and relaxing to be in. Here too the room is equipped with its own walk-in closet and bathroom, the latter elegantly decorated with white marble streaked with grey veins. The bathtub and shower are fitted with golden faucets, adding to the luxurious feel.
Although the family owns a property in London, which is convenient for mum to visit Thyme at his boarding school, the new Bangna house has become their favourite sanctuary, one that Prae has poured time and energy into making it a lovely family home. Working closely with interior designer Chananun Theeravanvilai of C&C Workshop, she was able to bring her ideas to life and tailor each corner of the house to her personal tastes.
As with its interiors, the residence's surroundings also offer several inviting chill-out spots, not least of which are the swimming pool area and a small picturesque sala furnished with white pillows down by the lake at the end of the garden. "When the weather is good this is a great place to relax. We like to sit out here in the evenings and catch the breeze off the lake. It's so refreshing," Prae smiles.
This is a well-appointed home that lacks pretentions of grandeur. Rather it is an example of how to blend the stylish and the functional—to keep the fun elements of home life for the children but maintain those grown-up fundamentals pleasing to an adult. "I've always preferred houses to apartments," says Prae. "Especially ones outside the city, away from all the pollution. But at the end of the day I truly believe it is the occupants that make a house a home. No fancy building can compare to the warmth and love of the family that lives in it."