The Delicious Details Of Yu Ting Yuan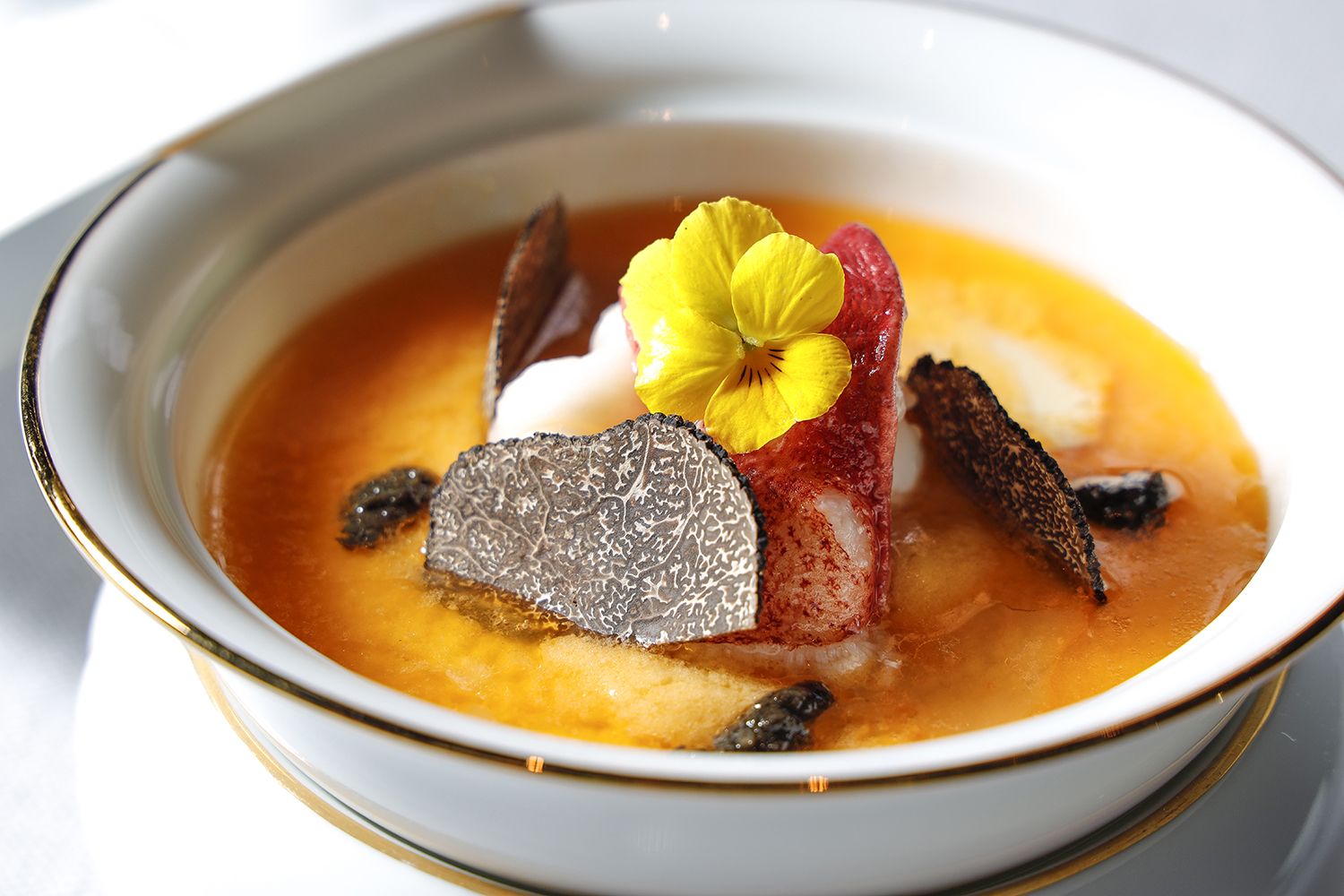 Yu Ting Yuan at Four Seasons Hotel Bangkok at Chao Phraya River offers a sophisticated contemporary gloss to match its authentic fine Cantonese fare
Yu Ting Yuan introduces traditional Cantonese cuisine in a fashionable setting conceived by Jean-Michel Gathy of design consultant firm Denniston. Clearly the hotel's signature restaurant, the space charmingly exhibits traces of classic Chinese architecture expressed with a tastefully dramatic modern flair through ornate lighting fixtures and contemporary artworks. On one side, floor-to-ceiling windows provide a picturesque backdrop of a lush indoor garden and glimmering pond that is sunlit by day and artfully illuminated at night. Waiting staff dressed in stylish uniforms designed by fashion house Ek Thongprasert complete the picture.
In the kitchen head chef Qiu Xiaogui and his experienced team of four Chinese culinary specialists lead an impressive roster of locally drawn talent. The five chefs have been working together for more than eight years, each with their own specialty: Liu Guokun for the Chinese barbecue, Wang Yucheng the dim sum, Li Bude the wok and Ma Xinbin the chops. "Cantonese cuisine is all about the details and finesse—techniques that take years to master," shares Xiaogui. "With origins in the southeast of China, particularly its coastal regions, seafood is naturally prominent while braising, the double-boiling of soups and roasting are common cooking methods. Flavours are more balanced and refined compared to the other regions of China because the goal is to preserve the food's original taste. Less oil and dairy products are used, resulting in cleaner, more wholesome dishes."
Dim sum takes the spotlight on most tables at lunch, with à la carte items and set menus available, all prepared à la minute. Exceptional is steamed Canadian lobster and seafood dumpling. Straight from the live seafood station, the luscious morsel is generously stuffed with prawn, Japanese scallop, red grouper and crab meat and then topped with lobster and ikura. Also worthy of mention is Yu Ting Yuan's version of classic steamed eggs cooked with Chinese rice wine. Silky with a light but creamy consistency, the custard is completed with juicy lobster meat and lobster oil from the crustacean's own cooking broth, as well as shaved winter black truffle.
Abalone also features large on the menu and a fine example is a dish of dried South African abalone that has been soaked in water for 14 days and stewed in a flavoursome chicken broth with Yunnan dry-cured ham and herbs. If not prepared properly abalone can be rather chewy but here it arrives as perfectly balanced tender bites enhanced by its own savoury cooking jus.
When it comes to mains, authentic Chinese roasts are exemplified by beautifully crispy pork belly. Using the finest cuts with the ideal meat-to-fat ratio, each piece is hung to air-dry for two days and then roasted in high heat to a golden crispy finish. Try it with a mild mustard sauce that allows the flavours of the meat to shine. Perfect for large gatherings, Yu Ting Yuan's Peking duck also makes a true feast. Prepped the traditional way, the crisp, glassy skin is sliced off the meat and served with paper-thin home-made Chinese pancakes, cucumber, spring onions and hoisin sauce. The rest of the meat is served as a second course of wok-fried minced duck in lettuce cups.
Round off the meal with a refreshing dish of chilled creamed mango, sago, fresh pomelo and mint leaves served on an exquisite mango-shaped platter. Designed by Pieter Stockmans, it is apparently the most expensive plate in the hotel. For more variety, you can enjoy the dreamy puree with other sweet treats via the signature dessert selection, which includes a sinfully decadent smoked chocolate ganache tartlet and a delicate rose meringue with lychee and raspberry compote. The desserts, as with the offerings in earlier courses, highlight Yu Ting Yuan's elegant virtuosity in the preparation and presentation of delicious Cantonese fare.
Yu Ting Yuan
Four Seasons Bangkok at Chao Phraya River, 300/1 Charoenkrung Road
Open daily 11:30am-2:30pm, 6-10:30pm
0-2032-0887, fourseasons.com
More Tatler reviews: Jhol Coastal Indian Cuisine Is A Destination For Curious Diners